B. Smith
B. Smith restaurants
There are three B. Smith restaurants on the East Coast: in Washington, D.C., New York City and Sag Harbor, N.Y. If you're big on brunch, like many buppies in cosmopolitan cities, B. Smith offers a smoked salmon platter, sweet potato pecan pancakes and cinnamon brioche French toast. And B. Smith tries to do everything with style. She's turned her love for elegant lifestyle into the B. Smith brand. She's hosted shows on TV One and has appeared on Good Morning America, The View and The Today Show. Smith isn't a professional chef, but she's been in the restaurant business for 25 years. Bon appétit.
Delilah Winder
G/O Media may get a commission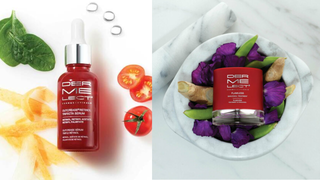 Save $19
Retinol Renewal Kit
Owner of Delilah's Southern Cuisine in Philadelphia
Delilah's Southern Cuisine serves smothered chicken, fried catfish, meat loaf and chopped-chicken barbecue. She has four restaurants in Philadelphia: at Reading Terminal Market, the 30th Street Amtrak Station, ShopRite of Cheltenham and Parkside. Winder's food has been featured on the Food Network on several shows, including Throwdown! With Bobby Flay (she lost to Flay's macaroni and cheese), The Best Thing I Ever Ate and The Best of Southern Cuisine. In 2006 she published Delilah's Everyday Soul: Southern Cooking With Style. She's also in Oprah's good graces; in 2003 Ms. O said that Delilah's mac and cheese was the "best of the best."
Ron DuPrat
Executive chef at Latitudes Beach Cafe at the Hollywood Beach Marriott in Hollywood, Fla.
DuPrat is from Mare Rouge, Haiti, and he fuses Haitian, French and Asian cuisines to create flavorful dishes. At Latitudes Beach Cafe, diners can order macadamia nut-crusted mahimahi or bacon-wrapped meat loaf for dinner. In 2009 DuPrat competed on Bravo's Top Chef, where he was the seventh contestant to be eliminated. DuPrat released My Journey of Cooking in 2007.
Herb Wilson
Executive chef at SushiSamba in Las Vegas
Wilson became the executive chef at SushiSamba in September. Big sushi fan? Like Brazilian cuisine? Why not have the best of both worlds while in Sin City? Rock-shrimp tempura, porkbelly ramen in a spicy lemongrass broth or miso-marinated Chilean sea bass. For years Wilson was the executive chef at the SoHo and TriBeCa Grand hotels in New York City. For a bit of gossip, he's apparently Star Jones' boo.
Marcus Samuelsson
Red Rooster in New York City's Harlem; Marc Burger in Chicago and Costa Mesa, Calif.; Street Food Restaurant in Stockholm; and C-House Restaurant in Chicago
Samuelsson has four restaurants with diverse culinary fares. At Red Rooster, diners can enjoy coconut rice and peas, dirty rice and shrimp or fried yard bird. C-House offers surf and turf. At Marc Burger, try a smoky BBQ burger, a pesto burger or Kobe beef sliders. Or, if you're overseas, you can try teriyaki noodles, BBQ ribs or a Bombay chicken wrap at Street Food in Sweden. In March he held a fundraiser for the Democratic National Committee, which raised $1.5 million. Each plate cost $30,800. Last year Samuelsson was named the winner of Top Chef Masters.
Marvin Woods
Executive chef and partner at FunXion in D.C.
FunXion offers popular American dishes with a "healthy twist," including bison burgers, buffalo-chicken pizza and smoked-chicken wraps. Woods has led the kitchens at Milestone Hotel in London, Savannah Restaurant and the National Hotel, Hollywood Prime at the Westin Diplomat and M. Woods in Miami. His biggest coup was when he became the executive chef at New York's Café Beulah's. Last year Woods was the first chef to help kick off Michelle Obama's "Let's Move" campaign. He also has Oprah's stamp of approval: "Chef Marvin Woods' dishes are light, sophisticated, exotic!"
Morou Ouattara
Chef-owner of Kora Restaurant in Crystal City, Va.; executive chef of Farrah Olivia
Ouattara merged two restaurants under the same roof that he named after his oldest daughters. His wife, Heather, runs the front of the house, to make it a family affair. At Farrah Olivia, diners can enjoy beef tartare, vanilla-poached lobster and lemongrass-cured duck. Kora serves Italian fare, including spinach- and ricotta-filled tortelloni and rolled eggplant stuffed with basil and marinara, mozzarella, ricotta and Parmesan. Chef Ouattara was executive chef of Signatures, a restaurant owned by Jack Abramoff, before it closed in 2005. (Yes, the restaurant where Abramoff was swaying lawmakers with free meals.) He battled Bobby Flay on Iron Chef and was a contestant on The Next Iron Chef on the Food Network. You can follow him on Twitter.
Pat and Gina Neely
Owners of Neely's Bar-B-Que in Memphis, Tenn., and Neely's Barbecue Parlor in New York City
Neely's Bar-B-Que is a no-frills barbecue joint: Pulled-pork sandwiches, smoked-turkey platters and slabs of beef ribs round out the menu. And if you're in New York City and you're looking for a taste of some Midwest barbecue, try the Neelys' new restaurant, where a stylish, upscale atmosphere meets down-home cooking. Pulled-pork hush puppies, 12-hour smoked beef brisket or chicken-fried steak, anyone? Their Food Network show runs every Saturday morning at 9 EST, where viewers can see their love for food and their undying love for each other. (She's the "spice fairy," and he's her, um, big daddy.) On Nov. 2, they will sign their newest book, The Neelys' Celebration Cookbook, at their New York restaurant.
Tre Wilcox
Executive chef of Marquee Grill & Bar in Dallas
In January Wilcox and his team of chefs left Loft 610 in Plano, Texas, to head up Marquee Grill in Dallas' Highland Park Village. At Marquee, the menu boasts a 20-ounce boneless ribeye, seafood fettuccine and Kobe beef carpaccio. Wilcox competed in the third season of Bravo's Top Chef, where he was the eighth contestant to be eliminated. He returned to the show in 2010 for an all-star edition, where he was the 10th contestant to be eliminated.
Melba Wilson
Owner of Melba's in New York City's Harlem

Melba Wilson is part of a culinary family; she's the niece of Sylvia Woods, of Sylvia's in Harlem, home of her famous chicken and waffles. Wilson opened Melba's in 2005. On the fourth season of Throwdown! With Bobby Flay, she beat Flay with her Southern-fried chicken and eggnog-waffles recipe. Other standouts from her menu? Wine-braised short ribs, pecan-crusted tilapia and BBQ turkey meat loaf.
Tiffany Derry
Executive chef and partner at Private|Social in Dallas
Just a few weeks ago, Derry opened her restaurant, Private|Social, where she's the executive chef and partner. The menu features her Top Chef elimination-round-winning pork buns, braised oxtails and smoked venison. Derry broke into the food industry at the International House of Pancakes, where she became the youngest person to rise to a management position in the establishment's history. She was the executive chef of Grotto Cucina Napolitano and Go Fish Ocean Club in Dallas.  Recently Derry appeared in a commercial for the Art Institute culinary school, from which she graduated. Although she didn't win Top Chef, she was voted fan favorite at the season's end and competed in the all-star competition later that year.
Bernard Carmouche
Culinary director of Emeril Lagasse's two Florida restaurants, Emeril's Orlando and Emeril's Tchoup Chop
While Carmouche was in high school, he was a dishwasher at a restaurant in New Orleans, where Emeril Lagasse worked. Carmouche promised Lagasse that he'd stay in school, and Lagasse said he'd teach him how to be a chef. Nearly 30 years later, Carmouche has become culinary director of Lagasse's Florida restaurants. For dinner, there's creole-marinated calamari, double-cut pork chops and andouille crusted redfish at Emeril's Orlando. At Tchoup Chop, try Polynesian "kicked up" crab cakes, cornmeal-crisped rainbow trout or hickory-smoked Australian lamb shank. In March Carmouche was honored by the Black Culinary Alliance at the 18th Annual Cultural Awareness Salute Dinner for his contributions to the culinary world. "Bam!" indeed.