Last week, I dared various individuals to come and test me now in a battle regarding two somewhat-storied and not-really-fabled singing groups from Atlanta. As was expected, some people agreed with my points. Others called me names. Nanny nanny. Boo boo. Well in the midst of that discussion evolved a discussion of the lack of singing prowess of one of the leads from one of the somewhat-storied and not-really-fabled singing groups from Atlanta which gave rise to the phoenix of crappy R&B singers. Full disclosure: I'm a fan of crappy singers. I'm mostly a fan of effort. Because of that effort, there have been SEVERAL high profile singers that many folks SWEAR can sing. I'm a reasonable man so I know better. But despite them not really being able to sing very well they have still managed to have quite successful careers…at singing. God does indeed have a sense of humor.
There's no judgement here; you are entitled to like who you like. This is how I've lived my life and if you look in my life you would see what I see. Sing that shit, Mary. Sing that shit. So here is a list (in no particular order) of singers that you and I both know can't sing, who just so happen to put "singer/contractor" on their IRS forms at the beginning of the year, ya know, in those years when they're actually paying their taxes.
BURN!
Ahem.
1. John Legend
I realize he is a Grammy-award and now Oscar-award winning artist. Clap for him. First, and I've never written about it with the fervor that I feel though I had every intention of doing so, "Glory" is trash. It's absolute trash. But that trash is ONLY saved by John Legend's crooning, non-singing ass which as you can imagine has given me agita. I won't pretend that John Legend doesn't have songs that I like because he does. I love "Green Light". I also hated his voice on that song. John Legend sings like he's got marbles in his mouth, but not like Michael McDonald. I guess they use different sized marbles. This is not a balls joke by the way. DEFLATEGATE BITCHES. Point is, John Legend sounds like crapola. One good note for John Legend, I did love the "Ordinary People" video because, domestic violence aside, he did illustrate -in slow motion mind you - the perfect way to slap a bitch. And by bitch, I mean anybody who brings you agita. Like John Legend. #slapjohnlegend
2. Keith Sweat
Keith Sweat may be the Patron Saint of bad R&B singers. Just like we screamed for ice cream, we all loved Keith Sweat. "Twisted" is a great song. Hell, his album I'll Give All My Love To You was full of hits that I loved. You say no. I say yes. Girl, I'll bet I can make you sweat. Now that I write that out, its a bit rapey. Real talk, older R&B and soul music was both very stalkerish AND rapey. Nevertheless, Keith Sweat is one non-singing ass negro. And lots of people love him and will tell you that he can sing. He. Can. Not. Like another artist on this list,I've gotten into a full scale argument with a friend of mine about whether or not he can sing. We're still friends and all, but our relationship changed.
G/O Media may get a commission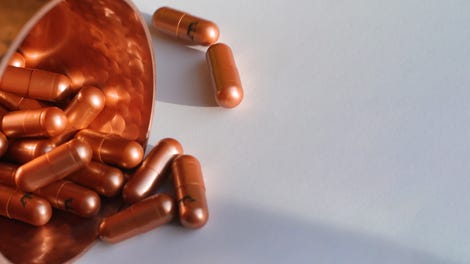 health
The Lyma Supplement
Speaking of that singer…
3. Carl Thomas
No.No.No.No. One winter night at the Times Square Applebee's in NYC in February 2003, I formally met a beautiful woman that I'd known tangentially during our time in college. How did we formally meet? Somebody mentioned Carl Thomas and she started talking about how much she loves him. I said, "that nigga can't sing." She looked at me like I'd just slapped her mother. An argument ensued between she and I. That night was magic. She and I are great friends at this point. She still believes that Carl Thomas can sing. I still don't. We still debate this point on occasoin. Summer Rain deez is usually how this conversation ends. To be fair, "I Wish" has long been one of my favorite Bad Boy songs.
4. Slim from 112
From last week's post: "'Round 112 way, we all know Slim is the lead – he's the most prominent lead singer despite being the worst singer of the group." #factsonly
Worst singer doesn't really tell the story. For instance, saying that Nate is the worst singer in Boyz II Men is unfair. Everybody in Boyz II Men could sing and sing well but if you had to pick a "worst" he might be the pick. In the case of Slim, he's not only the worst singer in 112, he also cannot sing. I don't give a fuck what your mama who grew up listening to 112 thinks. Also, if your mother grew up listening to 112, get off the Internet do your homework. Now.
5. Ameriie
This one might baffle you because most reasonable people know that Ameriie can't sing. It's kind of a given like police brutality and Apple dropping technology to replace the shit you just bought in six months. However, Ameriie (her second "i" truly bothers me) has convinced people that she can sing forcing those people who have been convinced - by Amerie - that she can sing to attempt to convince me that she can sing. Or at the very least, she's not a bad singer. She is. She's like the version of Mary J. Blige that can't sing, eschewing sound-goodness for angst and passion.
6. Mary J. Blige
Wait, what? FIGHT ME BRO. You know Mary can't sing. Now look, I love Mary J. Blige during her crack years. I haven't purchased a Mary album post Share My World and I'm not entirely convinced she's released an album since then. Sure, I've heard she did but whatevs. Point is. my love for Mary has come despite her lack of range. Or note delivery. I've always been surprised when folks like Mary (and Amerie) get live singing gigs, but not of their hits but of songs that folks who can actually SING usually perform. Like church songs. If Mary J. Blige comes to your church you might ask her to sing, not because she is a good singer and folks are about to be moved, but because its rude NOT to ask a person who has made a livelihood singing to sing a song. Nobody is clamoring for Mary acapellas. Speaking of acapella: PITCH PERFECT 2 BITCHES!
7. Alicia Keys
I probably don't even have to say anything on this one. I think most people accept this to be true. Right?
8. Ralph Tresvant
This one hurts me a bit. I love New Edition. Ronnie, Bobby, Ricky, Mike, Ralph, and Johnny too were like my favorite group for years. Ralph Tresvant and Bobby shared lead vocals early on then when Bobby left to release arguably the greatest post-soul R&B album ever, Don't Be Cruel, (I can argue this with ease), Ralph took the reins solo and……well. Look, I love Ralph. "Sensitivity" is also one of my favorite songs. I'm listening to it right now. Drake owes a debt of gratitude to Ralph. Ralph is not a good singer. I know women loved him. I get it. He had swag. He had grace. At the same damn time. But he's the third best singer in the group behind Johnny and Bobby. And I might be able to argue that Ricky had a better voice than him. Also, this is "best voice" in a none of them can really sing that well (aside from Johnny Gill) so who is the best of the worst kind of thing. New Edition Forever #doe.
9. musiq aka The Husel
My man Musiq. I love Musiq. I really do. "Half Crazy"? My shit. The Soulstar album? Also my shit. "Merry Go Round"? My shit too. But have you heard "Love"? This is the song where he really goes for it vocally. He doesn't really succeed. Also, he's a rapper now, going by the name The Husel. For the life of me I cannot understand this. He's a great songwriter. He's not a good rapper. He's a much better singer than rapper. Think about that.
10. TOTAL
Kima, Keisha, and Pam can't sing. See what I did there?