Twitter may not be the place to solve your disputes, but it sure is entertaining for fans when their favorite stars use the site to slam each other (or trolling haters). The evidence of the shade remains for weeks, months, sometimes years for all the world to see. Lesson: If you don't want it etched in stone like the Ten Commandments, don't tweet it. That's a lesson some of these celebs have hopefully learned.
1. Amber Rose vs. Kanye West
Amber Rose knows how to silence the haters, at least when it comes to former bae Kanye West. When the rapper misinterpreted a comment by Rose's ex Wiz Khalifa by assuming that he was dissing Kim Kardashian West, Kanye delivered a classic Kanye rant. After several unchecked posts from him that disparaged Rose's young son, she put an end to it with a now-infamous tweet that seemed to quickly humble the usually bombastic rapper. Kanye's posts disappeared from his timeline.
2. Drake vs. Meek Mill
G/O Media may get a commission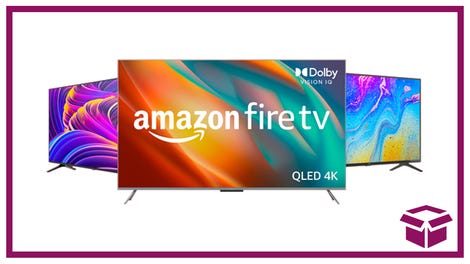 Ooh. stunning.
New Amazon Fire TVs
In these days of social media prevalence, it seems that promoting friends' projects is a true sign of loyalty. Apparently that's what rapper Meek Mill believes. When Drake failed to tweet support for Mill's album Dreams Worth More Than Money, Mill apparently took it personally and responded by accusing Drake of using a ghostwriter to write his rhymes. Drake refrained from responding via social media and went old school, taking the battle to the studio. He released two diss tracks before Mill could lyrically respond. Drake dropped the mic his way, and fans did the rest with memes mocking Mills, overwhelmingly agreeing that Drake had won the battle and the war.
3. Azealia Banks vs. Iggy Azalea
A beef was bound to develop between rappers with similar names. T.I. protégé Iggy Azalea was at the height of her fame, having performed at the BET Awards and received high praise for her hit song "Fancy." All the while, rapper Azealia Banks was virtually ignored. The fact that the Australia native adopted a Southern twang when she performed, and did so while being white and blond, likely poured salt in Banks' wounds, and she did not hold back. She unleashed on Azalea, offering an unsolicited lesson on cultural appropriation. Rappers Q-Tip, Rah Digga and more weighed in, all hoping that Azalea would credit some of those black artists who paved her way. The years-old beef was taken out the freezer and unthawed when Banks called out Azalea about her silence in the midst of the Black Lives Matter protests. Though Azalea defended herself, with seemingly no artists on her side, it's fair to say that Banks' criticism helped damage Azalea's once-promising career.
4. Floyd Mayweather vs. 50 Cent
They were once friends … or at least friendly, but bad blood developed between boxer Floyd Mayweather and rapper 50 Cent. The rumors addressing the cause of their feud abound. No matter how it started, fuel was added to the fire when the Power star challenged Mayweather to prove his literacy by reading part of a Cat in the Hat book. Instead the champ responded by simply posting photos of checks in amounts that few people will ever see. Though he may have put an end to the immediate battle, Mayweather seemed to concede that although his career isn't suffering because of it, his reading skills aren't all they could be. During a 2014 conference call, he said, "Will God not let me in heaven because I didn't read like a news anchor? Look, I would be perfect at reading if it was how I made my living and fed my family. … I'm not a news anchor; never claimed to be."         
5. Jussie Smollett vs. Homophobic Twitter Troll
Jussie Smollett has a smile that might suggest he's sweet and lovable, but the Empire star clearly has a strong clapback gene in his DNA. When the openly gay star shared a photo of him with activist DeRay Mckesson on social media, the two men were attacked by a Twitter troll who suggested they'd had a sexual encounter. Smollett had a vicious response.
6. Michelle Williams vs. Twitter Haters
It seems that most celebs can't have a thought without sharing it on social media. Fans have become so used to it that many assume that if a sentiment isn't posted, it doesn't exist. The question used to be, if a tree falls in a forest and no one is around to hear it, does it make a sound? Now we assume that if someone didn't tweet about it, he or she must be hating. However, singer Michelle Williams had the perfect response for those who criticized her social media silence following the birth of Beyoncé's daughter, Blue Ivy. While many celebs publicly expressed their congratulations, Williams' well-wishes were missed. After the haters appeared, she offered a logical explanation.
7. Nicki Minaj vs. Mariah Carey
It started on the set of American Idol, where the two artists served as judges. According to the rumors, the iconic Mariah Carey thought it beneath her to be seated near relative newcomer Nicki Minaj. What began as on-set drama quickly relocated to Twitter. While Carey suggested that the entire thing was a publicity stunt, Minaj's tweets seemed to validate the feud. The "Anaconda" rapper suggested that Carey's ego was too big to share the spotlight with another woman, and threw some shade at her older fellow judge.
8. Kevin Hart vs. Mike Epps
It was no laughing matter—well, maybe it was—when comedian Mike Epps decided to target Kevin Hart. Epps, seemingly offended at how Hollywood likes to dress black male actors in drag, took issue with a scene in Hart's BET sitcom, Real Husbands of Hollywood, in which Shaquille O'Neal bent the much shorter Hart over a car hood. Of course, Hart opted to respond with a few jokes … at Epps' expense. The two laughed off the short-lived feud as Hart explained that he was just trying to keep Epps on his toes.
9. Lil' Kim vs. Wendy Williams
Talk show host Wendy Williams doesn't go long before offending some celebrity she discusses on her daytime show. Numerous stars and their fans have taken her to task for insulting instead of inspiring those about whom she speaks. When the former radio host decided to bring up rapper Lil' Kim's new look, the original Queen Bee shot back, accusing the 50-something media maven of failing to seduce Kim's dearly departed bae Biggie Smalls.
10. Vivica A. Fox vs. Kenya Moore
Reality-TV fans were expecting a few fireworks when it was announced that Kenya Moore and Vivica A. Fox would be on the same season of Celebrity Apprentice. The drama began before the first episode aired. According to Fox, Moore stole her phone during a challenge and posted a tweet on Fox's timeline suggesting that the Independence Day star was suffering from symptoms of menopause. Ouch. When Fox discovered that her account had been hacked, she accused the Real Housewives of Atlanta personality and took to Twitter to vent her frustrations. What ensued was a divas' back-and-forth. Fox continued to hurl (or "twirl") accusations as Moore seemingly took the high road, sharing posts about being unfazed by haters.