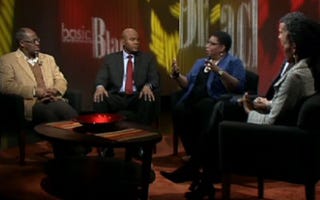 The Root's Omar Wasow was on hand at last week's WGBH TV's Basic Black program, which tackled a controversial issue: Is Black History Month still necessary?
Filmmaker Shukree Hassan Tilghman asks this question in his upcoming documentary, More Than a Month, which chronicles the adventures and lessons from Tilghman's one-man cross-country campaign to end Black History Month.
Callie Crossley, host and executive editor of WGBH radio; Kim McLarin, assistant professor of writing, literature and publishing at Emerson College and Peniel Joseph, professor of history at Tufts University; and Wasow, co-founder of Black Planet and contributor to The Root, engaged in an interesting conversation around the origins of Black History Month, and whether it does more harm than good.

Check out minute 12:00 when Wasow talks about black institutions, including Black History Month, struggling to find their footing in a post-civil rights world.

Check out the panel below.