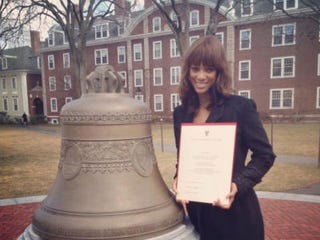 Supermodel-turned-TV host and production company founder Tyra Banks can now add Ivy League graduate to her résumé, according to the Washington Post.

The 38-year-old recently graduated from Harvard University's Executive Education Owner/President Manager Program with a certificate. Those enrolled in the program pay $33,000 a year for one three-week session every year for three years. The Owner/President Manager Program is designed for "CEOs, COOs, presidents and managing directors of companies with annual sales of at least $5 million."

Banks posted the news on her Twitter account, along with several pictures from graduation day. She tweeted, "Smiling ear2ear on the Harvard Business School campus w/ my diploma! Tnx 2 my fab photographer mama 4 the pic!" She will receive alumna status from the university.
When asked about her experience last year by VH1, Banks said that the hardest class for her was finance. "For the first 30 minutes of the class, I'm raising my hand, I'm all into it, 'cause it's kind of like theory and just like, the social part of the case. The last hour it's all like Einstein and algebraic equations and craziness. And I'm just like, what the [heck] is going on? Please don't call on me because it won't be pretty."
The model said earlier this month that she wanted to be a real businesswoman and not just depend on her fans, according to AceShowbiz.com.
We congratulate Banks on efforts to pursue higher education and achieve her goal. We hope she is able to apply everything she learned at Harvard to her business.
Read more at the Washington Post.
Like The Root on Facebook. Follow us on Twitter.