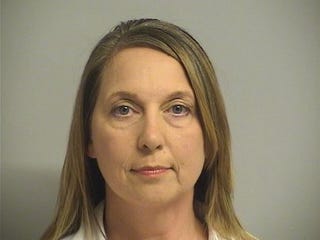 Tulsa, Okla., Police Officer Betty Shelby is insisting she was just doing the best she could in a bad situation, fatally shooting Terence Crutcher—an unarmed motorist—not because of his race but because of "his actions, his behaviors."
CBS' 60 Minutes snagged Shelby for her first interview since the 2016 shooting, and the segment is scheduled to air Sunday at 7 p.m. ET/PT.
In the interview, Shelby doubles down on her assertion that race had nothing to do with her decision to pull the trigger and that Crutcher caused his own death through his behavior and his failure to abide by her commands.
"I'm feeling that his intent is to do me harm, and I keep thinking, 'Don't do this. Please don't do this. Don't make this happen,'" Shelby tells CBS' Bill Whitaker.
Shelby describes how Crutcher, in her view, was "targeting" her, looking back and trying to assess her last-known location, in order to retrieve some perceived weapon and then shoot.
She says that Crutcher dropped his arms and reached into his car, alarming her.
"And it's fast. Just that would tell any officer that that man's going for a weapon ... I say with a louder, more intense voice, 'Stop. Stop! Stop!' and he didn't. And that's when I took aim."