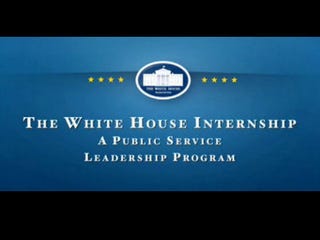 It's safe to say that most ambitious young Obama supporters and aspiring politicos won't require a hard sell to be convinced that working in the White House would be an exciting and valuable experience. But for any who may be on the fence, current interns in this video provide an insider's look at their high-profile posts and encourage other young people to apply to the spring 2013 program, for which the application process is now open.
An accompanying post at Whitehouse.gov has application details and more on what interns can expect:
They become a part of the White House team, and the assignments given to an intern on any given day could include conducting research, managing incoming inquiries, attending meetings, writing memos, and staffing events. They also participate in a weekly speaker series with senior staff members and small group meetings exploring different policy aspects of the Executive Office of the President through speakers, discussion, off-site field trips, and service projects.
 Read more and find application materials at whitehouse.gov. 
Like The Root on Facebook. Follow us on Twitter.