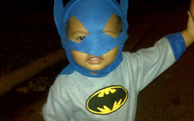 One-Eyed Bat Boy
Reader Rhodalyn Medow submitted this adorable photo of Marlon'Jey as Bat Boy.
Throwback
Schala Guzman from Los Angeles dressed up as Facebook before the upgrades.
There's No Place Like Home
Reader James West III of Missouri City, Texas, writes, "The innocent ones at Halloween Dance in Houston."
DIY
Chocolate Hair Vanilla Care sent in this photo of a 4-year-old girl in a homemade Hello Kitty costume.
Controversial Costume
Here's Schala Guzman again dressed up as Dr. Conrad Murray, equipped with a healthy dose of propofol.
Disney Princess
Trill Snowden of New Hampshire gives us this picture of Saniyah as Ariel Ballerina Princess. "Saniyah loves Princess Ariel and wanted to be her this Halloween. My family and friends always tell me she should be a model," Snowden writes. 
Snow White Without Seven Dwarfs
Reader Chris Williams posted this photo of Snow White and her friends.
Opposites Attract
Edward Potter from Los Angeles sent this photo of his "little darlings," Maya and Cammie from Portland, Ore., dressed as a witch and a princess.
Unlikely Pair
At a Halloween party in Rego Park, N.Y., Karen Mauney's grandson and his classmate pose for a picture as Dorothy from The Wizard of Oz and Mario from Super Mario Bros.
Precious Pup
Reader Nancy Jennings sent us this photo with the caption, "Our little poodle."
Ponytails and Eight-Counts
The Root's editorial intern Josh Weaver posing as an eccentric pageant dad, flanked by his overworked daughters and wife.