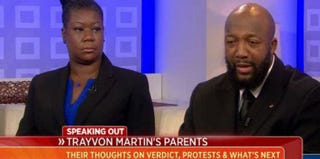 Update: Tracy Martin and Sybrina Fulton did a tour of the network morning shows on Thursday, expressing shock and disbelief that a jury acquitted George Zimmerman in the shooting death of their unarmed 17-year-old son, ABC News reports. It was the first time they've appeared in public since the verdict was announced on Saturday.
On ABC's "Good Morning America," Tracy Martin said he felt the jury did not get a chance to get to know the teen. "They didn't know him as a human being," he said.

Martin's parents said they still believe Zimmerman, who identifies himself as Hispanic, racially profiled their son.

"Obviously, any time you have a person that makes an assumption that a person is up to no good, that's some kind of profiling," Martin said. "Was he racially profiled? I think if Trayvon had been white, this never would have happened." …

Fulton told "CBS This Morning" her son was not a burglar.

"He simply went to the store and was headed back home," she said. "And for somebody to look at him and perceive that he was a burglar, that was the problem that initiated everything."
Trayvon's parents also appeared with their attorney, Benjamin Crump, on ABC's The View. Fulton explained that their legal team advised them not to be present in the courtroom when the verdict was read because of "emotions." "We thought about it and decided that that was best. Either way we didn't want to be there because we didn't feel like we could remain quiet in either case," she added.
Read more at ABC News.
Earlier:
Speaking on the Today show, Sybrina and Tracy Martin, the parents of Trayvon Martin, addressed for the first time a jury's decision to acquit George Zimmerman in the death of their unarmed 17-year-old son, MSNBC reports.
"Is this the intent for the justice system to have for victims," Sybrina Fulton, Martin's mother, said on the Today show Thursday morning. "Trayvon wasn't doing anything wrong."

"We felt in our hearts that we were going to get a conviction," Tracy Martin, Trayvon Martin's father, said. "We thought that the killer of our unarmed child was going to be convicted of the crime that he committed."

It is the parents' first day speaking out on live television since a jury over the weekend found George Zimmerman not guilty on second-degree murder and manslaughter charges in the Feb. 26, 2012, shooting death of Martin in a gated community in a small suburb of Orlando. Zimmerman had pleaded not guilty to the charges claiming that he shot Martin in self-defense after the unarmed teen attacked him. Seventeen months after the killing, Zimmerman walked from a Florida court a free man.

In the hours and days following the verdict, mostly peaceful protests spread across the country. The NAACP and other civil rights groups have also called for the Justice Department to bring federal hate crimes charges against Zimmerman, saying that he racially profiled the teen before stalking and then killing him.

Tracy Martin said that he would like federal authorities to "weigh all of the options. We just, as parents, we just feel that there could've been something more done.
Watch it below:
Visit NBCNews.com for breaking news, world news, and news about the economy
Read more at MSNBC.