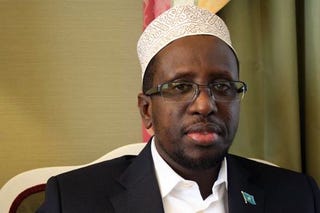 Fumbuka Ng'wanakilala of Reuters is reporting that President Sheikh Sharif Ahmed promised on Wednesday to rid the country of the Islamist militants who are fighting to overthrow his administration and blocking food aid to millions of people facing starvation. Ahmed was speaking four days after al Shabaab pulled most of its forces out of the Somali capital amid signs of deepening rifts among its senior commanders.
"As long as they are in Somali territory, even an inch, I will not rest," Ahmed told a news conference after meeting Tanzanian President Jakaya Kikwete in Dar es Salaam. "Our determination is to clear them out," he said.
Some regional allies have criticized Ahmed's failure to quash the insurgency and push through a new constitution designed to better spread political power among the country's powerful clans and regions.
Al Shabaab's four-year rebellion is the latest chapter in Somalia's two-decade-long civil conflict, sparked by the overthrow of dictator Mohamed Siad Barre in 1991. The chaos on land has allowed piracy to flourish off the Horn of Africa's shores.
Millions of people are starving to death in Somali over this continuing conflict. Nearly 30,000 children died last week, and 640,000 are malnourished. Thousands of Somalis have fled to camps in Ethiopia and Kenya along "roads of death" to escape the famine.
We've said it before and we'll say it again: Something has to be done to end this famine and to stop extremists from obstructing aid. The world community needs to unite and get involved in ending this horror.
Read more at Yahoo News.
In other news: Obama Greets Bodies of Dead Service Men.