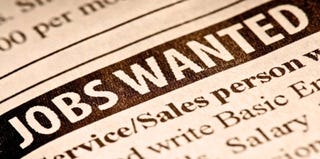 Despite GOP Senate efforts to block progress in the jobs market, MSNBC is reporting that U.S. employers added 80,000 jobs last month, a government report showed Friday, offering some hope for the beleaguered employment market.
The nation's jobless rate ticked down to 9 percent in October after holding at 9.1 percent for the previous three months, according to the Labor Department.
The October jobs gain was the fewest in four months, but the report included some positive signs. The government revised August's and September's figures upward by 102,000, average hourly earnings rose and the unemployment rate fell for the first time since July because a separate survey of households showed that more people had found work. Businesses added 104,000 jobs last month, below September's total. The U.S. government shed 24,000 jobs.
The job growth in October was strong enough to suggest that some economic momentum is building, according to Diane Swonk, chief economist at Mesirow Financial.
"The job market is stabilizing, and it does look like it's beginning to accelerate a bit, and that's exactly what we need," Swonk told CNBC. "But this is still nothing to pop champagne about."
Economic indicators ranging from first-time filings for unemployment benefits to planned hirings by private firms have all pointed to an improvement in the jobs market last month. Still, the labor market remains the Achilles heel of the economic recovery, and progress at putting 14 million unemployed Americans back to work remains painfully slow.
Indeed, "painfully slow" is an understatement, particularly when the Jobs Act and all plans related to it have been voted down. How sad is it that when there is an opportunity to create jobs, those plans are stifled in order to protect the interests of the wealthy? Despite these obstructionist tactics, the October report offers hope for the employment market. Is there any hope that the GOP will get out of the way of progress in the employment market or offer a solution to unemployment anytime soon?
Read more at MSNBC.
In other news: GOP Blocks Infrastructure Plan.