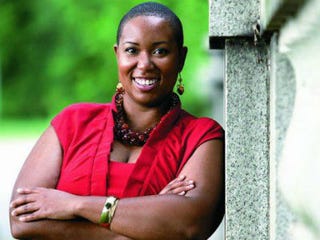 Last year the Obama re-election campaign launched Operation Vote — a program dedicated to reaching core constituency groups, including African Americans, Latinos, young people, women and gays and lesbians. On Wednesday the campaign announced the hiring of Stefanie Brown, national field director for the NAACP, as the black community's point person.
"Stefanie has dedicated her life to empowering people of color to organize and advocate for justice and equality in their communities," said Jim Messina, Obama's campaign manager. "She is a natural fit for a campaign who's fueled by its grassroots strength. Stefanie's youth, commitment and proven ability to mobilize and energize voters will be an invaluable asset to the campaign."
Brown, 31, also directs the NAACP Youth and College Division. Under her leadership, the organization's national civic-engagement campaigns registered more than 200,000 people to vote in the 2008 and 2010 election cycles. As the Obama campaign's African-American-vote director, she will be charged with building a national program to engage black voters and get out their vote. She starts in her new role next month.
"African-American voters were among the president's strongest supporters in 2008, and I am thrilled to help build that fervor again for 2012," said Brown. "The president is going to need our community more than ever this year, and I look forward to working together to win a victory on Nov. 6."  
From messaging to digital outreach, Brown will oversee the strategy to bring African Americans into the campaign. What do you think she can do to energize black voters?
Cynthia Gordy is The Root's Washington reporter.