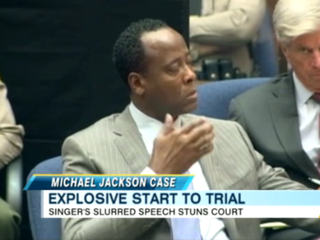 Conrad Murray's trial kicked off to a grim start yesterday with a photo of Michael Jackson's lifeless body stretched out on a hospital gurney, an eerie voice mail left by Jackson on Murray's phone and tears all around. "Prosecutors want to make the jurors realize that this is about Michael Jackson's gruesome death," expounded Mediaite founder and ABC legal analyst Dan Abrams, who stopped by Good Morning America early this morning to give a rundown of day one …
Watch Abrams' full take below, courtesy of Good Morning America.
video platformvideo managementvideo solutionsvideo player
Source: Mediaite.
Read more at Mediaite.
In other news: VIDEO: Chris Christie: Obama a Bystander in Oval Office.