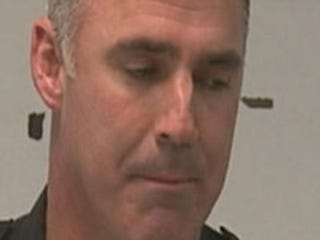 Federal prosecutors are seeking leniency for the former police lieutenant who is scheduled to be sentenced today for his role in a plot to cover up the deadly police shootings on a New Orleans bridge after Hurricane Katrina, the Associated Press reports.
Michael Lohman entered a guilty plea last year to conspiring to obstruct justice and faces a maximum of five years in prison. The details he provided about a far-reaching cover-up of the September 2005 shooting by police of innocent, unarmed civilians that left two dead and four seriously injured helped convict five other former police officers, New Orleans' Times-Picayune reports.
Because of the value of his cooperation with the government, prosecutors have urged the judge to impose a five-year sentence but suspend three years so that Lohman is released after serving two. The theory is that this would "encourage other defendants to cooperate in future investigations."
There's something troubling about the idea that the judge has to choose between sending that message (an important one in a city where police misconduct needs plenty of investigating) and punishing Lohman fully for participating in a cover-up of a devastating shooting that he has said he knew right away was "unjustifiable." 
Read more at the Times-Picayune and the Washington Post.
In other news: BET Sued Over 'Rogue' Essence Fest Telecast
Like The Root on Facebook. Follow us on Twitter.