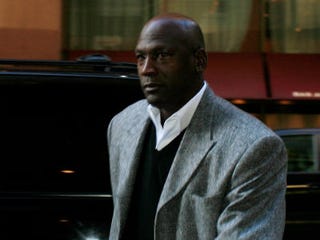 Reuters reports that basketball legend Michael Jordan has filed a lawsuit against a Chinese sportswear company this week, accusing it of unauthorized use of his Chinese name (Qiaodan) and jersey number to sell its products. He says the lawsuit isn't about money, bur rather about principle and protecting his name.
The Naismith Memorial Basketball Hall of Fame recipient and former Chicago Bulls star said on Thursday that Qiaodan Sports, a company located in the southern Fujian province, had built its business around his Chinese name and jersey number without his permission.
"It is deeply disappointing to see a company build a business off my Chinese name without my permission, use the number 23 and even attempt to use the names of my children," Jordan said in a statement.
… Jordan is known as Qiaodan in basketball-mad China that has produced its own basketball superstar in Yao Ming. The moniker was registered by Qiaodan Sports, the statement said. It did not specify what compensation Jordan was seeking from the company.
In a statement issued on Thursday, the Chinese company defended its use of the name.
Jeremy Lin, who has already had his name registered as a trademark by someone in China, might want to get in touch with Jordan's lawyers.
Read more at Reuters.