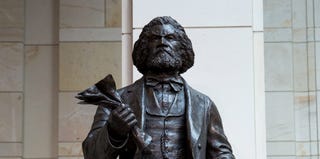 Frederick Douglass will be officially remembered on Capitol Hill, the Associated Press reports.
On Wednesday, House Speaker John Boehner led the unveiling ceremony of a 7-foot bronze statue of the former slave in the U.S. Capitol's Emancipation Hall. Steve Weitzman, a Maryland artist, created the statue, which portrays Douglass in his 50s.
The statue joins sculpted tributes to fellow black Americans Rosa Parks, Martin Luther King Jr. and Sojourner Truth on permanent display in the Capitol's Emancipation Hall.

Douglass was born a slave in 1818 in Talbot County, Md. He advised President Abraham Lincoln and was a voice for women's rights as well as those of black Americans.

Boehner is calling the statue "a fitting tribute to one of the greatest Americans and voices for freedom who ever lived."
Read more at the Huffington Post.