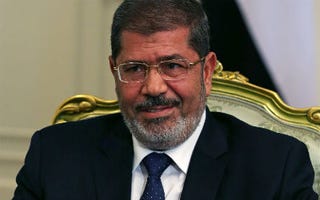 Egypt's president gives himself new powers: Over the weekend, the Washington Post reports, Egyptian President Mohammed Morsi ordered his country's defense minister and chief of staff to retire and reclaimed key powers the military had seized from him days before he took office on June 30. That means his new authority rivals that of ousted authoritarian predecessor Hosni Mubarak.
Janelle Monae: New face of Cover Girl: "I want to help redefine what it means to be a strong woman in the music and fashion worlds," the beauty brand's newest model said.
Lousiana courts in racially charged power struggle: NPR reports that lawyers are seeking to reopen an old voting-rights case that gave the Deep South state its first black Supreme Court justice, and the result could determine whether Justice Bernette Johnson will be Louisiana's first African-American chief justice.
Oprah gets Gabby: The gymnastics champ will appear on the OWN Network's Oprah's Next Chapter.