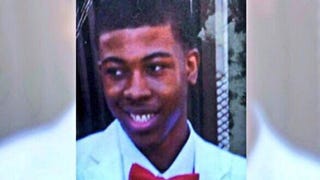 A Chicago police officer who shot and killed a college student and his downstairs neighbor by mistake will face no charges in the two deaths. The Cook County District Attorney's Office declined to prosecute the officer on Friday, saying that there was insufficient evidence that he was not acting in self-defense.

On the day after Christmas in 2015, Officer Robert Rialmo shot 19-year-old Quintonio LeGrier and his neighbor Bettie Jones, 55, a mother of five, after LeGrier called police in a dispute with his father. LeGrier was shot six times, and Jones, who had been standing behind him, was shot once in the chest.
The Chicago Tribune reports that the shooting occurred about 4:30 a.m. Rialmo and his partner were responding to four 911 calls—three by LeGrier and one by his father. LeGrier, a sophomore at Northern Illinois University, was staying with his dad during winter break. Two 911 operators who hung up on LeGrier twice were suspended without pay.