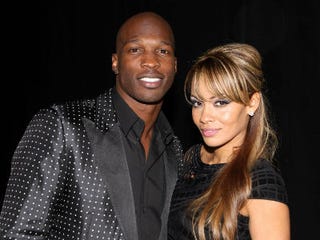 Miami Dolphin Chad "Ochocinco" Johnson was arrested and charged with domestic violence on Saturday night after an altercation with new wife and Basketball Wives star Evelyn Lozada. According to police, the pair came to blows just steps away from their home's front door, reports the Miami Herald.
Davie Police arrested and charged Johnson Saturday evening with domestic violence, after a heated argument with wife Evelyn Lozada turned bloody. Police say Lozada, as the couple were returning to their Davie home after dinner, became upset after finding a receipt for condoms in Johnson's car.

By the time the couple pulled into their driveway, the argument had escalated, police said, and Lozada told police that Johnson headbutted her. "She has a pretty good-sized laceration on her forehead," said Davie Police Capt. Dale Engle.

The couple have been married for a little over a month.

Johnson's run-in with the law comes at a time that he is already on thin ice with the Dolphins organization, in part due to off-color comments Johnson made during a team news conference last week.
Read more at the Miami Herald.