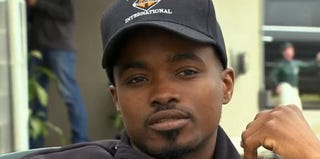 UPDATED Saturday, May 4, 8 p.m. EDT: Goldencents, the horse ridden by jockey Kevin Krigger, finished 17th, according to Sports Illustrated. Krigger was trying to become the first black rider to win the race since 1902.
Earlier:
Kentucky Derby contender Kevin Krigger tells CBS News that he plans to win big today. If so, he will become the first African-American jockey to win since 1902. Black men used to dominate the sport, and after the Civil War, they were among the best contenders. But the doors of competition were slammed shut by Jim Crow laws, according to an earlier report at The Root.
Watch the interview here:
Read more at the Washington Post.