A$AP Rocky will spend at least three weeks in a Swedish jail before being charged with a crime.
As TMZ reports, a judge ordered the rapper, born Rakim Mayers, to stay in jail an additional week as prosecutors continue their investigation into a fight that took place between Rocky, his entourage, and two men in Stockholm last month.
Prosecutor Daniel Suneson said A$AP was ordered to stay in custody because he's a "flight risk," the BBC reports.
A$AP Rocky was arrested on July 3 under suspicion of assault, the BBC reports; Swedish prosecutors have until July 25 to complete their investigation and formally press charges against the 30-year-old rapper, whose detainment has made waves back in the U.S. as other artists have vowed to cancel their Swedish shows as a demonstration of support.
Videos released online clearly show A$AP Rocky punching a man in the street, though footage released by the rapper show an earlier encounter between Rocky, his posse and two young men, who appeared to have followed the rapper out of a Stockholm restaurant. The group pleads with the men to "go that way," before one of the men attempts to fight one of A$AP's bodyguards.
G/O Media may get a commission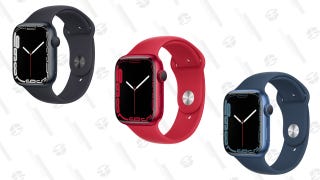 Up To $45 Off
Apple Watch Series 7
"We don't want to fight y'all," A$AP says in the video. "We don't want to go to jail."
In a particularly 2019 twist, TMZ reports that none other than Kim Kardashian West has taken on the fight to free A$AP, petitioning Donald Trump and his administration to get involved in the case.
On Thursday evening, Kardashian West thanked Trump, Secretary of State Mike Pompeo, Jared Kushner and others for their efforts to free A$AP. Though, given the Swedish court's recent decision, that aid hasn't come quite soon enough.