Meek Mill, born Robert Rihmeek Williams, has spent the last 11 years of his life hounded by a drug and gun conviction that stole his freedom and served as a textbook example of our deeply flawed criminal justice system. But his nightmare might soon be coming to an end, as the possibility of a new trial comes closer to reality.
From Variety:

On Tuesday, Mill and his lawyers stood before three Pennsylvania Superior Court judges in a Philadelphia courtroom to ask that his 2008 conviction on gun and drug charges be tossed out and a new trial be set. Even before Tuesday's hearing, lawyers on both sides had already agreed that the most damning testimony during the initial 2008 conviction was based on poor evidence from, and credibility issues with, "a bad cop," in the words of Mill's appellate attorney, Kim M. Watterson — and that such testimony be thrown out going further. The sole witness at the original trial was the now-retired Reginald Graham, who later was placed on the Philadelphia district attorney's office "do not call" list due to his history of misconduct.
Unlike Mill's previous bouts with the criminal justice system, the 32-year-old rapper had an unlikely ally during his hearing—Philadelphia District Attorney Larry Krasner—who not only questioned the credibility of the aforementioned police officer ("He now has been discredited") but concurred that Meek's original 2008 judge, Genece Brinkley, had repeatedly exhibited bias in her decision making. Additionally, Mill was also informed that should he be granted a new trial, his case would be transferred to a different judge.

And there was also this bit of good news, courtesy of Variety:
Also in the mix at the July 16 hearing: a long-held request for fresh adjudication. Mill's original 2008 judge, Genece Brinkley, sent Mill back to prison in 2017 after she found he'd violated his probation with minor technical probation violations and returned him to prison for 2-4 years. Brinkley had also denied Mill's continued bids for a new trial, stating in court papers that she did not believe Mill's lawyers or the D.A.'s office had sufficiently proved the evidence used to secure his original 2007 arrest was tainted.
G/O Media may get a commission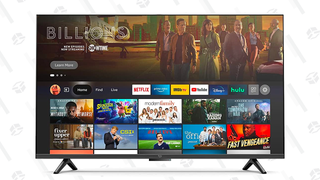 22% off
Amazon Fire TV - 50" Omni Series 4K - Early Access Deal
Clearly relieved by these developments in his case, Mill was all smiles as he and his lawyers left the courtroom on Tuesday. He declined to speak to reporters, but political commentator and Reform Alliance CEO Van Jones had plenty to say on his behalf.

"I have been in criminal justice for 25 years, and I have never seen a district attorney's office be calling for a new trial at the same time the defendant is calling for a new trial," Jones said. "We are one step closer to justice. This hearing was an extraordinary moment where you have attorneys on both sides saying that a new trial should go forward."

This wouldn't be the first time the court sided with Mill, as state prosecutors didn't dispute his 2018 release on bail and also argued that Brinkley had failed to remain impartial.

Mill's legal battles are far from over, but for the first time in years, they have one defining trait: Hope.