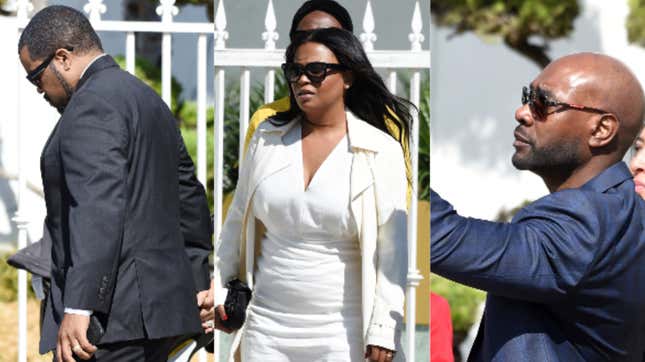 On Monday, May 6, friends and family gathered in Los Angeles to pay their respects to iconic filmmaker John Singleton.

Fighting "Lie-abetes": How To Spot And Combat Disinformation and Conspiracies In Politics | The 411: Part 2
Singleton was taken off of life support and died on April 29 after suffering a major stroke on April 17. He was 51 years old.
Cast members of Singleton's directorial debut, Boyz n the Hood, paid their respects, including Ice Cube, Nia Long, and Morris Chestnut. The film made Academy Award history when Singleton became the youngest and first black director to be nominated for Best Director, and launched the acting careers of several of its stars.
Other notable attendees included Tina Knowles-Lawson and husband Richard Lawson, Ving Rhames, Tyrese, Rep. Maxine Waters (D-Calif.), Ryan Coogler, Ludacris, and costume designer Ruth E. Carter.
Via Instagram, Tyrese posted what appeared to be the funeral service program, entitled "A Celebration of Life."
"Thank you John Singleton for deciding that you had a problem with the state of black Hollywood and going above and beyond to change it ... Honored that I was one of the people you chose to take with you on this journey ... You left us with SO MUCH!!!!!!!" Tyrese wrote, having worked with Singleton in 2 Fast 2 Furious and Baby Boy.
"While John touched the lives of millions of people through his artistic work, I am among those who had the privilege of calling him a dear friend for more than two decades," Rep. Waters said in a press release obtained by The Root on April 30. "John was passionate about our community, and whenever there was a need in South Los Angeles, I could count on John to be there. He would regularly visit with me in my office, and I will cherish the many memories we shared over the years. My dear friend John Singleton: a true creative genius and one of the greatest directors of all time. Though he is no longer with us, his work and his impact are larger than life, and his legacy will live on forever."
According to an official statement obtained by PEOPLE, there will also be a larger public memorial service to be held in the coming weeks.