Before Halle Berry became an actress, she was a beauty pageant contestant and a model. And both of those roles kept Hollywood from taking her seriously.
In an interview with W, Berry spoke about how her looks were a hindrance early on.
"Just because someone looks a certain way doesn't mean that they are spared adversity," Berry said, adding, "Adversity does not discriminate."
Berry, now 50, says she didn't want to rely on her looks, and actually didn't want to take on "pretty" roles.
"I came from the world of beauty pageants and modeling, and right away when people heard that, I got discounted as an actor," Berry said. "I took on roles early on that really didn't rely on my physical self at all, and that was a good way to sort of get some credibility within my industry."
G/O Media may get a commission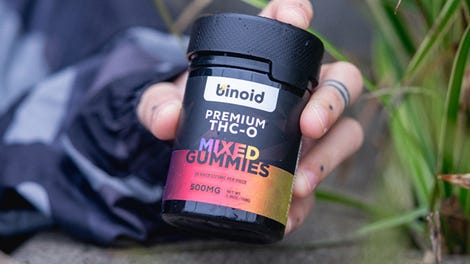 25% Off + Free Shipping
Binoid THC-O Gummies
There were two roles in particular Berry said that she actually fought hard to play. The first was the "crack ho" role in Spike Lee's Jungle Fever. Berry said that she wanted the role badly but that Lee had another role in mind for her.
"Spike Lee wanted me to read for the part of his wife, and I read that part fine enough, but then I said to Spike, 'You know, I really am eyeing this crack-ho role; can you please let me audition for that?' And he said, 'No, no, I don't see you as the crack ho.'"
Of course, Berry was eventually cast as the love interest of Gator, played by Samuel L. Jackson, and it was that role that got her foot in the door.
"And it was an amazing way to start my career, playing a crack ho, being directed by Spike Lee," Berry said. "It was major for me."
The second role that Berry had to persuade a director to let her play eventually garnered her accolades and awards.
"[Director] Lee Daniels didn't want to see me read. He was actually disgusted by the thought. He thought there's no way, and my argument to him was, just because someone looks a certain way doesn't mean that they are spared adversity. I thought, 'My looks haven't spared me one hardship or one hurt moment or one painful situation. So, please, you know, give me a shot at this,'" Berry said of her role in Monster's Ball.
Berry said that she told Daniels, "I often think it's more interesting when you see someone that looks a certain way struggle in ways that you wouldn't think they would be struggling with."
The rest is history.
"That sort of changed the course of my career in so many ways," she added.