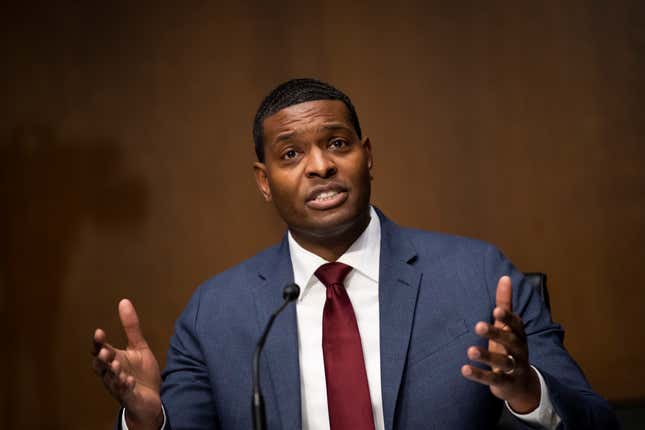 Environmental Protection Agency Administrator Michael Regan is here to set the record straight: climate change is real! The fact that he even has to say this in 2023 is absolutely bonkers. But here we are.
Tackling A Black Maternal Health Crisis & Embracing Reproductive Justice | The Root Institute
Last night, Republican presidential candidate Vivek Ramaswamy called climate change a "hoax," bizarrely claiming that more people have died from climate change efforts than from the crisis itself.
"I don't think it's a serious conversation or a serious statement to say that climate change isn't real," Regan told The Root. "Ninety-seven percent of scientists focused on climate change, and science understand that it's real."
Regan, who spoke to The Root ahead of his trip to the Black Economic Forum, said that comments like Ramaswamy's are nothing but a distraction.
"We should all really focus on what the national and international solutions are," he said. "And not really give too much credence to the very, very small fringe who don't even want to acknowledge that climate change and climate impacts are affecting Americans every day."
Speaking of solutions, Regan had plenty to discuss on that front. "I'm proud to say that the EPA has taken on the leadership role for this administration, really centering justice and equity in every single thing we do," he says.
Regan touted the Biden administration's signature legislative achievements on environmental justice, including the Bi-Partisan Infrastructure Law and the Inflation Reduction Act. "Communities that have long born the disproportionate impact of pollution and have not had a seat at the table will now have over $3 billion to invest in solutions that have plagued their communities," said Regan.
At the conference, Regan plans to stress the ways in which this funding is also a massive economic opportunity for Black Americans. As a part of the Inflation Reduction Act, the administration is investing $27 billion in the Greenhouse Gas Reduction Fund — aimed at investing in climate and environmental solutions.
"It's really important that Black entrepreneurs, Black business, Black executives understand that there is an economic opportunity here," he says. "There is a significant opportunity to grow our communities and create tens of thousands of jobs along the way. So it's an exciting time."
As the first African American to lead the EPA, Regan says he's proud to use his life experience to advance equitable solutions to fighting climate change.
"I understand it's a significant and historic opportunity for me to bring my experiences to the table and really use those experiences to build bridges," says Regan, "for all communities, all races, all ethnicities to come together and think about how we preserve our environment, how we protect public health, how we tackle the climate crisis, and how we do it in a manner where we don't leave anyone behind."