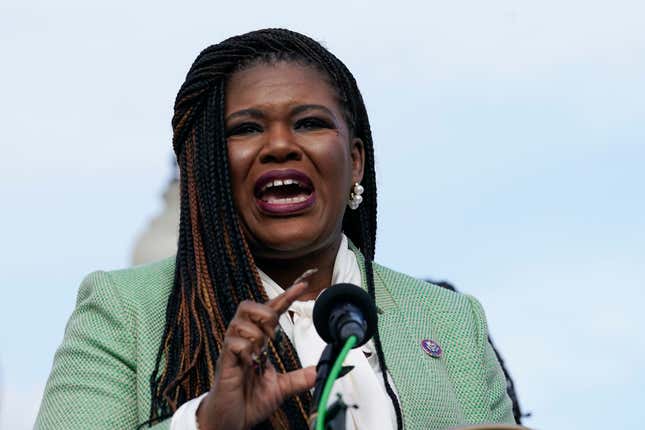 Representative Cori Bush (D-Mo.) held nothing back when accused Republicans of using another Black lawmaker, Rep. Byron Donalds (R-Fla.), as a "prop." Conservatives who failed to support Rep. Kevin McCarthy (R-Calif.) clamored around Donalds on Wednesday. He received 20 votes for the speakership in the fourth and fifth rounds of voting.
Tackling A Black Maternal Health Crisis & Embracing Reproductive Justice | The Root Institute
In an attempt to justify this decision, Rep. Chip Roy (R-Texas) quoted Martin Luther King Jr. and insisted that Republicans "do not seek to judge people by the color of their skin but rather the content of their character." Donalds' nomination means that for the first time in the history of Congress, both parties nominated a Black candidate to run the House.
On Tuesday, Rep. Hakeem Jeffries (D-N.Y.), made history as the first Black leader for either party. Bush was not impressed by this latest Republican move and said on Twitter: "Despite being Black, [Donalds] supports a policy agenda intent on upholding and perpetuating white supremacy."
She expanded on this sentiment for The Huffington Post.
"My issue is not with Byron Donalds himself. My issue is not with him being Black. My issue is not with him being Republican. My issue is because he was not someone that they have been promoting for the last two years...it seems as if they're using him as a prop, as a tool, not because they think that he's great, that he's done all of these things to lead them. I don't like that they're using him that way. I don't want them to use him that way. And I want him to understand: They're only using you... don't let them do that to you. Make them treat you with dignity and respect."
Bush didn't stop there: "To hear Chip Roy stand up and say this is not about color ... it absolutely 100% is because if you were nominating him on his worth and merit, I think none of us would have been surprised because we would have seen him do leadership things." Donalds, who is avid Trump supporter, also insisted that the 2020 presidential election was stolen.
In addition, Donalds has a close relationship with Florida Govenor Ron DeSantis (R), who is known for being anti-trans and an opponent of critical race theory. There's no doubt that Donalds knows he's being used—he's a Black Republican, after all. But at this point, it's clear he has no problem with it.