Is it appreciation or appropriation? We may never know for sure, but after weeks of seeing many of her iconic looks revived by Kim Kardashian and Kylie Jenner, Naomi Campbell is making sure we all put some respect on her name by reminding us who wore it first—and arguably, best.
Campbell was far from the first to notice that the Kardashian-Jenner clan has been having a Naomi moment. For months now, fashion watchdogs on Diet Prada, social media, and any number of magazines have been quick to spot when Kim has worn an outfit—or in some cases, a knockoff—initially made famous by the supermodel. Between accusations of erasure and good old-fashioned Kardashian-critiquing, the internet has had their fun assembling some pretty damning side-by-side comparisons. (Scroll through below to take a gander.)
As of late, Campbell herself has gotten into the act, throwing some subtle, supermodel-level shade at her famous friends by quietly posting shots of herself in the original article every time a copycat appears.

For instance: After Kim posted a shot of herself in head-to-toe animal-printed Alaia on March 5...
G/O Media may get a commission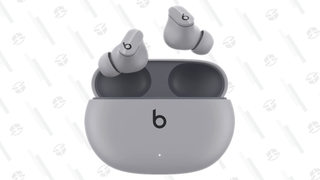 Naomi answered with her own Alaia tribute on March 7.
And when little sister/newly minted billionaire Kylie Jenner decided to get in on the act with a set of diamanté sunglasses and a choker on Sunday...
Naomi came through with #MOOD—and her own shade—on Monday.
The message? No drama—just give credit where credit's due. Many of the looks the "Karjenners" are now flaunting were initially made famous by Campbell; it's perfectly fair to remind the masses that fashion doesn't exist in a vacuum.
It's called acknowledgement—and it's certainly something Kardashian has readily given to any number of designers she's worn.
But all appropriation aside, we doubt there's any lasting love lost between Kardashian and Campbell. After all, game ultimately recognizes game.