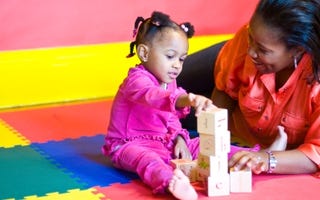 To say that America and the world are in crisis is an understatement. The world economy is careering off a financial cliff. And in America, Wall Street and corporate greed have resulted in a trail of high unemployment, record foreclosures and nonexistent savings and 401(k)s. Yes, it appears the good times that we enjoyed in America for the past several years are over. 
But one group in particular has never enjoyed the fruits of the boom times: children who have had to be removed from abusive or neglectful homes. These kids have never been comfortable in the world and certainly have never had any hope for the future. The dismal and depressing emotional climate we are experiencing today may be new to many of us, but for these children, a catastrophic, unstable and dangerous environment is all they have ever known. 
Their world has always been bleak as they have struggled to surmount the multiple traumas in their young lives — traumas that include watching their parents beat, stab and shoot each other. Witnessing their parents abuse drugs and alcohol, or even dying from drug-related illnesses such as AIDS. In turn, these parents or caretakers have acted out their insanity on their kids by neglecting, beating or sexually abusing them.  
Of course the ultimate trauma is their forced separation from their parents and their placement into foster care. Consequently these children have low or nonexistent self-esteem, anger and often severe mental-health issues, which cause them to act out against others and themselves. They struggle through their childhood, often failing in school and in constant conflict with all those around them. For those who are born with positive toxicity because of their parents' drug use during pregnancy, they must now live life with severe learning disorders and stunted cognitive growth.
I work with the Harlem Dowling-West Side Center for Children and Family Services. Formerly known as the Colored Orphan Asylum, this 175-year-old agency is the oldest not-for-profit child-welfare agency in the country and has long been dedicated to serving children in New York City and beyond. As a clinical psychologist, I am part of a unique treatment team that consists of social workers, case planners, a nurse and psychiatrist, and together we assist these emotionally wounded children not just to survive but also to thrive.
But despite our grueling — but rewarding — work, one major problem remains: We don't have enough foster homes to provide the stable and loving environment that our children need now, before they return to their biological parents, while we are delivering the therapeutic care. In fact, this is a problem of epidemic proportion for practically every black- and Latino-oriented foster-care agency in America. 
Foster parents may not have the advanced degrees of members of our treatment team, but they are essential to the process because they are dealing with the kids 24-7, from home to school to even the occasional psychiatric hospitalizations. These foster parents step in and become the stable parents that these children have never had. In essence these parents provide therapeutic and loving homes, safe havens, so that our children can finally breathe, relax and live comfortably.
When we lack these foster homes, our kids must be placed in temporary homes where they cannot get the consistent and specialized attention they need. If they are older, they can end up in group homes or institutions — certainly not the preferred placement!
If you truly believe that it "takes a village" to raise a child, than I urge — no, I beg — you to consider becoming a foster or adoptive parent in your town and help save and transform a young person's life. These children need you. Who knows — by your being there for them, they can be there for you, too. Your act of kindness may turn your life around to the point that the hope you lost for the world may now be restored.
For more information about Harlem Dowling-West Side Center, click here. The agency's 175th anniversary gala is on Thursday Nov. 3 in New York City. You can get more information about the event at the agency's website.
Jeffrey Gardere, Ph.D., is a clinical psychologist who regularly appears on television programs, including The Maury Povich Show and Nancy Grace. He is on the staff of Harlem Dowling-West Side Center in New York City and is an adjunct clinical professor at the Touro College of Osteopathic Medicine, in Harlem Village, N.Y.
Like The Root on Facebook. Follow us on Twitter.