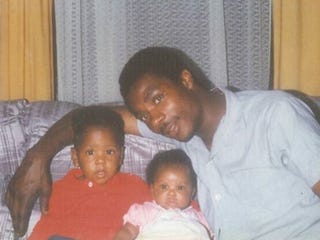 Keith Cooper is still getting used to being an officially pardoned man. It's only been a day, after all, since new Indiana Gov. Eric Holcomb removed the wrongfully placed stain from his record, a stain put there because of a violent armed robbery Cooper did not commit, but for which he spent nearly a decade in prison.

On Friday, the Chicago Tribune reports, Cooper finally spoke out about his wrongful conviction, trying to put into words what his pardon means to him.
"I got my name back," the 49-year-old told reporters at a news conference. "I walked to the store and never came back. It was hard. It was a hard journey for us all and being that I missed out on my kids growing up."
Cooper's daughter, wife, former wife, mother, and several other relatives and supporters stood beside him as he made his statements.
Cooper (and Holcomb) made news Thursday after the governor wiped Cooper's record clean of a 1996 armed robbery conviction. Holcomb accomplished in less than a month what now-Vice President Mike Pence left hanging in limbo for three years and ultimately left his gubernatorial office without acting upon.