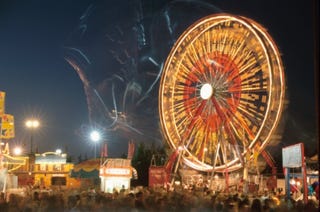 The Milwaukee Journal Sentinel's Eugene Kane takes some young black youths to task following a mob episode at the Wisconsin State Fair.
Philadelphia — While out of town last week, I suddenly started receiving urgent long-distance messages about young black people in Milwaukee acting crazy.
Again.
 Last time it happened, I was on vacation during the Fourth of July weekend when a bunch of misbehaving young black people ransacked a gas station convenience store and attacked residents in a park.
This time, I was in my hometown of Philadelphia attending the National Association of Black Journalists convention when my BlackBerry started blowing up with news about what happened Thursday night at the Wisconsin State Fair.
According to reports, it was similar to what happened in Riverwest last month, but on a much more brutal — and scarier — scale.
When people start reporting they were being beaten by black people for no other reason than being white people at the State Fair, that's pretty disturbing.
It's also thuggish and disgusting.
Read Eugene Kane's complete article at the Milwaukee Journal Sentinel.