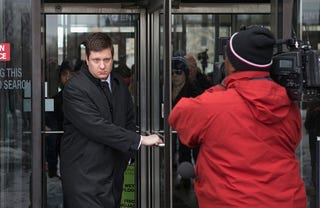 The wife of Chicago Police Officer Jason Van Dyke says that a job offer for her to become a Cook County sheriff's deputy was abruptly pulled because of her husband's controversial case.
According to the Chicago Tribune, Tiffany Van Dyke was set to begin training last week as a deputy after finishing a year of tests and interviews. However, just four days before she was scheduled to start her four months of training at the academy, she says that with no explanation, she was told not to show up.
Van Dyke said that she had already quit her other jobs as a full-time fitness instructor and a part-time bartender and had invested in the costly uniforms and equipment required for the position as a correctional officer at the county jail, which would have raked in about $53,000 annually.
The Cook County sheriff's chief policy officer, Cara Smith, denies that Van Dyke was fired, saying that she merely had her start date delayed over safety concerns about her working in a jail given the notoriety of her husband's case. Smith encouraged Van Dyke to seek a civilian post with the sheriff rather than work in the jail, according to the report.
"We're not hiring to work at Macy's," Smith said. "It's a totally different environment. We certainly are sympathetic to her situation, but our concern first and foremost has to be ensuring her safety."
Tiffany Van Dyke's husband, Jason Van Dyke, is facing first-degree murder charges for the 2014 shooting of 17-year-old Laquan McDonald, whom he shot at 16 times, as shown by police video of the footage, which sparked outrage. Most recently in the case, Jason Van Dyke was indicted on an additional 16 counts of aggravated battery with a firearm.