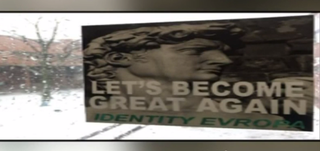 Well, maybe this will explain why we've seen a seeming uptick in racist incidents at college campuses across the nation. According to analysis by the Anti-Defamation League, groups that the organization identifies as white supremacist are really pushing their agenda on college campuses, aiming to recruit students at the institutions and plaster their messages across campus grounds.

The ADL calls it "an unprecedented outreach effort to attract and recruit students on American college campuses."
According to the Washington Post, the group, which tasks itself with fighting anti-Semitism and other forms of bigotry, has tracked some 104 incidents since the beginning of the school year in September, with an apparent surge in 2017, with more than half the reported incidents occurring since January.
Since the election, racist graffiti, students wearing blackface and using slurs and throwing up the Nazi salute, and the appearance of racist fliers and posters on college campuses have overwhelmed the news cycle. The ADL says that some of this surge is due to a calculated effort by hate groups.