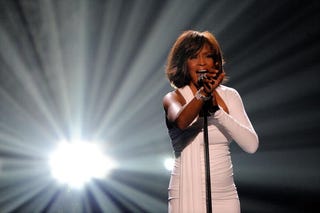 She looked serene and comely on the album cover: lips parted seductively, hair slicked back and a strand of pearls encircled her thin neck. The peach border around the picture complemented the light, creamy color of her dress, which draped across one shoulder. The young singer's name was in a stately brown font, all caps, right above the inviting picture: WHITNEY HOUSTON.
In the winter of 1985, the New Jersey star's self-titled debut hit the streets and soon became a blockbuster, eventually selling 25 million copies worldwide. The album, No. 1 on Billboard's pop album chart for 14 non-consecutive weeks, even entered the Guinness Book of World Records as the biggest-selling debut by a female artist. Whitney, the rail-thin daughter of gospel-soul great Cissy Houston and cousin of divine pop diva Dionne Warwick, set a new precedent in pop, particularly for female performers. For better or worse, young diva wannabes have been wailing and stretching their ranges to the skies ever since.
And to mark the 25th anniversary of the LP that changed modern pop divadom, Sony-BMG, which owns Arista, has released a deluxe edition of the album. It includes a clearly remastered version of the original 10-song set, five bonus cuts and a DVD featuring videos and interviews from Whitney and Clive Davis, her Svengali who has overseen the highs of her career.
We revisit her ground-splitting debut just months after Whitney launched her pop comeback with I Look to You. Last night, she was given the entertainment award on the BET Honors awards program.  Looking elegant in a mocha-colored gown, her voice low and raspy, Whitney gave a slightly overwrought acceptance speech. But before that, she stood near the stage, wiping away tears and cheering on gospel singer Kim Burrell and pop sensation Jennifer Hudson as they belted "I Believe in You and Me" and "I Will Always Love You," respectively. Both singers gave rousing, diva-worthy performances, something we haven't seen from Whitney in years.
Her new CD, a half-hearted affair that tries to awkwardly reposition Whitney as something of a dance-club diva, entered the Billboard charts at No. 1, thanks to the splashy media campaign that preceded it. There was Whitney on Good Morning America, looking stylish but sounding strained and hoarse. Whitney on Oprah, chatting with the talk-show queen about smoking the strongest weed money could buy while husband Bobby Brown, who of course was also high, spray-painted evil eyes all over the bedroom walls.
The Whitney today, her face, and certainly her voice, slightly weathered, is far removed from the vocalist who emerged in 1985. That singer was strikingly poised with a soaring voice that was equal parts Cissy's gospel fire and Dionne's classy pop cool. But beyond the crystalline voice, there was her carefully crafted image. Whitney was the all-American girl. There was no denying she was black. There was nothing particularly racially ambiguous about her look. And unlike Dionne, Whitney never sanded away the gospel overtones of her vocal style. But still, Whitney wasn't a soul sista; she was unabashedly pop. She was remote and aloof. She didn't grant many interviews back in the day. Those 'hood-rat Newark tendencies that insiders knew about were carefully hidden early on.
But after Whitney married R&B bad boy Bobby Brown and after she racked up more international smashes off The Bodyguard soundtrack in the early '90s, the real Whitney was revealed. She was defensive, even downright bitchy to the media. And once the drug problem hit the tabloids, well, we all forgot about the serene pop darling introduced on her debut.
But listening to it 25 years later, it hasn't aged well. Album cuts such as "Thinking About You" and "Someone For Me" are very much of their time with thin synthesizer-heavy arrangements. The big hits off the LP—"You Give Good Love," perhaps Whitney's most transcendent urban ballad, the Grammy-winning "Saving All My Love For You," and the hopelessly corny but catchy "How Will I Know"—remain sterling nuggets of '80s pop. The conservatism of the album's production also echoes the era. But Whitney's vocals on the set, stunningly pure with a seemingly limitless range, are still a marvel.
She was never much of an interpreter. But her technical brilliance, the way she swooped and soared through her material, whistled in a new performance style for female pop stars. It wasn't just about the song anymore. It was more about vocal grandstanding, best showcased in maudlin, skyscraper ballads. Without Whitney, there would be no Mariah, no Christina Aguilera, no Beyoncé, no Jennifer Hudson. Thanks to the ubiquity of the 1985 debut, no talent show or high-school graduation has been spared a bombastic rendition of "Greatest Love of All."
But the Whitney today probably can't sing that song like she did in '85. Sure, age certainly contributes to a change in a singer's voice. But over the years, Whitney's copious consumption of drugs and cigarettes surely helped in the darkening of her instrument. Though still attractive, her voice today is underserved by thin, trend-conscious material that tries desperately to lift her to the pop heights she once ruled. To a certain degree, the same is true on her 1985 debut. But back then, her wide-eyed, fiery passion gave life to the most banal songs, and she sounded truly invested, even a little hungry.
Sadly, that Whitney is just a memory.
Rashod D. Ollison is a freelance pop arts journalist and the former pop music critic for the Baltimore Sun.