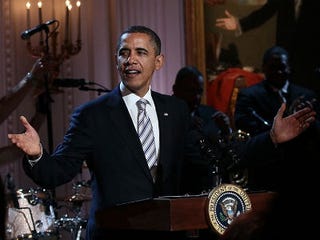 He's already a Grammy Award winner, but might President Obama's plans after the White House involve a career in music?
After singing Al Green's classic song "Let's Stay Together" last month at the Apollo Theater in Harlem, the president has another viral sensation on his hands after he sang along with B.B. King and Mick Jagger in a celebration of blues music at the White House. He sang B.B. King's classic "Sweet Home Chicago," which hits close to home, since Obama calls Chi-town home.
The concert will air next week as part of the PBS In Performance at the White House series.
Do you see sales of this B.B. King song jumping? We sure wouldn't be surprised.
Like The Root on Facebook. Follow us on Twitter.