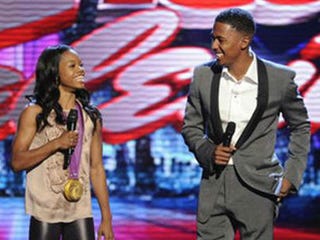 After the intense competition that surrounded her gold medals in both the team and individual competitions in the Olympics' women's gymnastics, it's no surprise that doing the television rounds seems to be a breeze for Gabby Douglas. Her most recent stop: the set of America's Got Talent.
From the Huffington Post:
The 16-year old has mentioned aspirations of being an actor, so Nick Cannon offered to let her take over his job hosting "AGT."

Without missing a beat, Douglas did just that. It was a fun little spot, and nice to see Douglas looking relaxed now that the intensity of the London games is behind her.
Read more at the Huffington Post.