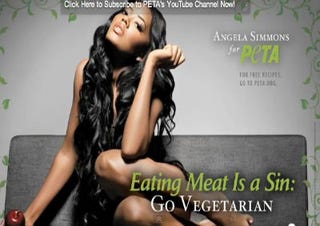 Global Grind is reporting that reality TV's Angela Simmons stripped for a PETA ad campaign promoting her lifestyle as a vegetarian. During the videotaped photo shoot, she told PETA why she decided to become a vegetarian as well as why she decided to bare it all for a cause, reports Global Grind.
"I'm happy with it. I feel lighter — it's a good feeling," she said. She goes on to say that she was inspired by her uncle Russell Simmons, who is a longtime vegan.
Angela also claims that in addition to combating the cruelty of factory farming, adopting a vegetarian diet is the best thing you can do for your health.
The American Dietetic Association states that vegetarian or vegan diets "are healthful, nutritionally adequate, and may provide health benefits in the prevention and treatment of certain diseases."
Read more at Global Grind.
In other news: Mortgage-Relief Scams Target Blacks, Latinos.