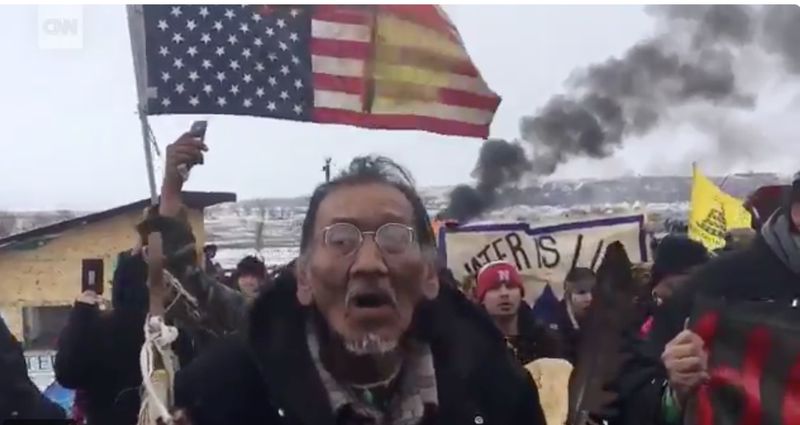 With fire and smoke lapping the skyline, Standing Rock Sioux tribal members and water protectors marched, drummed, sang and prayed their way from Oceti Sakowin (Seven Council Fires) Camp, the home they have built while protecting their sacred land from the "black snake," also known as the Dakota Access Pipeline.
The Associated Press reports that it took three-and-a-half hours for 220 police officers in full riot gear and 18 National Guardsmen to clear the camp in North Dakota that has been at the core of the peaceful protests for over six months. Approximately 36 people were arrested after refusing to leave the campgrounds after the Wednesday deadline set by Republican Gov. Doug Burgum and the Army Corps of Engineers had passed.
But this is about much more than three hours; it is about much more than even the past year. This is about the continued, slow genocide of indigenous tribes, the breaking of treaties, the theft of land, and the forcible removal of people who have every right to stand and protect what is rightfully theirs.

This is about the systemic violence that the U.S. government has inflicted on indigenous people. From the infestation of pilgrims to President Andrew Jackson's Indian Removal Program, Native Americans, those who survived the onslaught, were forced to leave their homes so that white supremacists could grow cotton and continue their genocidal acts against indigenous Africans stolen from their homeland to become enslaved chattel in another.
This is state terrorism packaged as infrastructural progress.
We know that President Donald Trump's support of and financial investment in the Dakota Access Pipeline would lead to the continuation of the colonizing project. The United States itself is, after all, a white-settler colonial project, and his regime is crawling with bigots, cowards, white supremacists and self-serving swine who would see this nation's poor, sick and vulnerable burn at their feet if it meant the continued dominance of their money and mediocre children.
We know that President Barack Obama and former first lady Michelle Obama made empty promises to Standing Rock youths that the U.S. government would be on their side because it was not just a "smart investment in their future, it is a solemn obligation that we as a nation have incurred."
We know that U.S. presidents have continued to break the 1851 and 1868 Fort Laramie Treaties, which promised that the Lakota-Dakota Nations' land would be safe from malignant white forces:
And we know that despite indigenous people facing extremely high rates of police brutality, rape, suicide and physical illness, this nation—the nation of their rapists and murderers and plunderers—has continued to intentionally victimize them, over and over and over again.