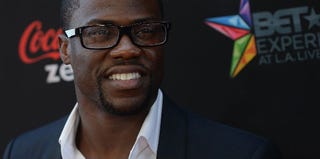 (The Root) — Kevin Hart has done it again. With the debut of his latest concert film, Kevin Hart: Let Me Explain, the Philadelphia-born performer has proved that he very well may be the comedic voice of his generation.
Hart's latest was shot before thousands of giddy fans at New York City's Madison Square Garden, and sharply captures the comic's high-octane routine. The comedian focuses largely on his adventures overseas, the differences between women and men, relationships and rumors, his past legal troubles and his fear of being touched on the lips by a hobo's hands.
If there is any doubt that Hart has arrived, the 80-stop tour in 2012 generated more than $32.7 million in ticket sales, surpassing the No. 1 urban-comedy tour of all time, "The Kings of Comedy."
Kevin Hart: Let Me Explain has already grossed more than $20 million since it opened in theaters July 3. The Root talked to the comedian while he was in Washington, D.C., to learn more about the genius behind the laughs.
The Root: What inspires you to keep moving forward as a comedian?
Kevin Hart: I am goal-oriented. My drive is ridiculous because I want so much and expect so much out of myself, which is why I work so hard.
I'm a student of comedy. When you look at the greats — from Richard Pryor, Eddie Murphy, Chris Rock, Martin Lawrence, Dave Chappelle, Redd Foxx, Robin Harris, George Carlin to the Kings of Comedy to Bill Cosby; the list goes on and on — these guys have achieved so much.
One day I want to be considered one of the greats. I'm a student of comedy. You can't get there by not putting your all into your craft. That's what keeps me going.
TR: What inspired the hilarious film Kevin Hart: Let Me Explain?
KH: The film Let Me Explain was about taking the opportunity to set the record straight for whatever hypothetical opinions people may have of me. As an entertainer, you put yourself in the public's eye, and you put yourself in a position where people can develop opinions of you.
By doing stand-up, I get the unique opportunity to literally make the best of my situation by being a comedian. Whether it is positive or negative, me being able to address everything and not hiding from it puts things in a different perspective. It allows my fans to know me and respect me a little more.
TR: In the film, the audience gets a chance to share some of your overseas experiences and adventures. What do those experiences mean to you?
KH: I was dumbfounded at the fact I was doing comedy overseas.
To have started with small audiences and to have grown to selling out shows and arenas, I just laugh. I laugh because it's universal. My comedy appeals to everyone, all colors, shapes and sizes, and that is important to me. You can't tell jokes all over the world if people can't relate to what you are saying. At the end of the day everybody loves to laugh. If you can provide that gift, it is a great thing. It's not about race; it's about laughter, and that's what I love the most.
TR: During your incredible journey, what have you learned about yourself and your brand?
KH: I understood how powerful my impact on social media is. Other celebrities and people take that lightly. I don't think they understand how powerful it is. From the click of a button, you can reach the world. When I went overseas for this tour, all I kept hearing was, "Oh, my God, I love you on YouTube!" "Oh, I follow you on Twitter!" "Oh, your Instagram," "I love seeing the pictures your posting!" I learned my fan base is loyal. By me tweeting and posting to Facebook and Instagramming, I am reachable, and I love that.
I think it brings down the whole hype of fame. People relate to that and watch on a day-to-day basis. These are fans, but they genuinely love and appreciate you, and they watch and follow you. I love the fact my fans have that access to me and that I go back and forth with them. Going overseas definitely lets me know that I have a major impact and that I should not ever take that for granted. People rely on me, and I will never get too relaxed and not care about my loyal fans that support me the most.
TR: What is one of the challenges that you learned from as your success continues to grow? What is your overall goal for yourself?
KH: My most challenging thing now is to understand that I'm a business and a brand. When people invest in your brand, there are certain things you cannot take lightly. Your behavior, the way you carry yourself, how you talk to people, your overall presentation. These are all watched on a day-to-day basis, and as a brand you have to be aware of it. 
It is easier to not care, but you can destroy everything you worked for and spent so much time building and shaping at the drop of a dime. If people do not take me seriously, then my company won't be taken seriously. For me it is about becoming a business and becoming a mogul. It's about being a great representation of myself and my company, HartBeat Productions. I want to stand for more than just stand-up comedy.
Huda Mu'min is a lifestyle expert, entertainment writer and celebrity chef from ABC's The Taste. Follow her on Twitter and Facebook.