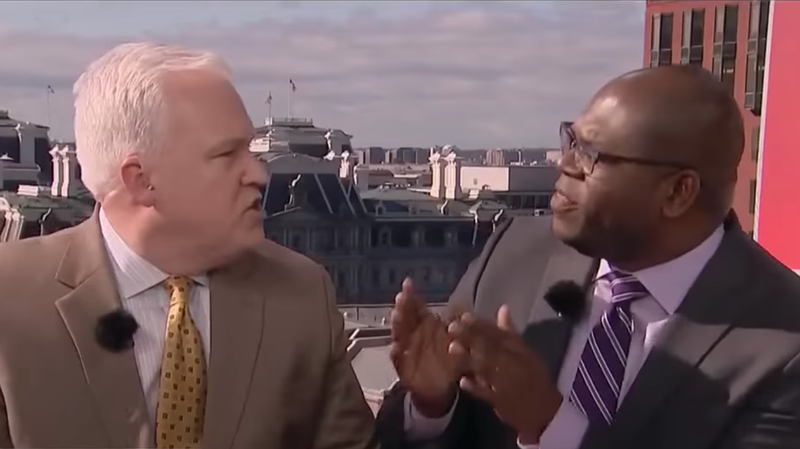 On Wednesday morning The Root's political editor, Jason Johnson, appeared on MSNBC Live, as he often does, alongside Matt Schlapp of the American Conservative Union. Johnson is a veteran political analyst, writer and politics professor at Morgan State University. (Although I have no idea how he does all of this, because every time I turn on my TV, he is a guest on various news shows explaining politics to the audience. My personal theory is that there is a group of highly intelligent Jason Johnson clones who study politics by night and educate the public by day.)
Everything was going along swimmingly until they delved into the April Ryan-Sean Spicer controversy. Then this happened:
Stop shaking your head.
This exchange is a perfect illustration of an argument The Root tries to make daily: White people do not get to determine whether something is racist or not, and Johnson tries to make this point before the discourse turns into a boxing-match promotion. (By the way, Vegas has 3-1 odds on Johnson in the fifth round.)
Unlike most of the White House pool, April Ryan ain't scared of the Trump administration, and "Scrappy-Doo" Spicer doesn't like that. For context, we should remember that Ryan is the same correspondent who confronted Donald Trump about dodging the Congressional Black Caucus, and Donald Doll-Hands responded by asking her to set up a cookout for him to meet them. Ryan is the same reporter whom the Trump administration's secretary of black stuff—Omarosa Manigault—threatened by telling Ryan that the White House had a dossier on her. 
Anyone who thinks that telling an adult human being what she should do with her body has nothing to do with her sex or race should refer to the time NBC's Peter Alexander told Trump his Electoral College boasts were lies, and Trump told him to stop smiling. You should stream the video of how condescendingly Spicer treated CNN's Jim Acosta when Acosta asked the same question about Russia that Ryan asked. Maybe Johnson didn't see the clip when Spicer told another correspondent to sit down, or to stop acting like that.
Oh, right. That has never happened—except to April Ryan.