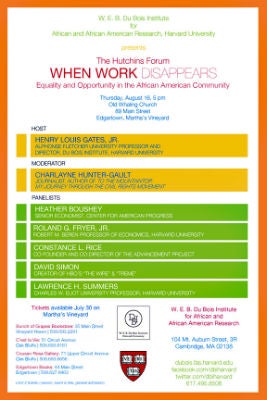 (The Root) — Join The Root's editor-in-chief, Henry Louis Gates Jr., and Charlayne Hunter-Gault, author of To the Mountaintop: My Journey Through the Civil Rights Movement, at the W.E.B. Du Bois Institute's Hutchins Forum in Martha's Vineyard on Thursday, Aug. 16.
This year's forum — titled "When Work Disappears: Equality and Opportunity in the African-American Community" — features panelists from the realms of politics, entertainment and academia, including Constance L. Rice, co-director of the Advancement Project; David Simon, creator of HBO's Treme and The Wire; and Lawrence Summers, a professor and past president at Harvard University and former economic adviser to President Obama.
Tickets are available at select locations on Martha's Vineyard, and admission is free to the public. For more information about the Hutchins Forum, visit the W.E.B. Du Bois Institute's website.
Date: Thursday, Aug. 16
Time: 5 p.m.
Location: Old Whaling Church, 89 Main St., Edgartown, Martha's Vineyard
Previous recommendation: 'Right State': Not Your Everyday Comic.
Got ideas for The Root Recommends? Send them to recommendations@theroot.com.