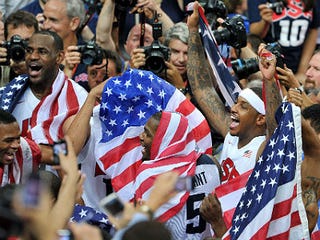 Besting Spain's basketball team in a close game on Sunday, Team USA garnered the gold medal at the 2012 Olympic Games, according to USA Today. This win means Team USA has won 14 of the 16 games they have played.
For whatever the U.S. missed in size at the London Olympics, it compensated for with overwhelming talent. Which is a good thing because they had some anxious moments in Sunday's gold medal game. Against the one team — Spain — where size may have played a factor, the U.S. could not do what it had done so often in the tournament, pull away quarter by quarter, until there was no doubt who the best team in the world is.

There may still be no doubt of that after the Americans 107-100 victory at North Greenwich Arena, but Team USA's second consecutive gold medal game win over Spain was hardly a leisurely ride down the adjacent River Thames. The Americans led by one at the half, trailed briefly in the third quarter and never really had a comfortable margin.
Read more at USA Today.