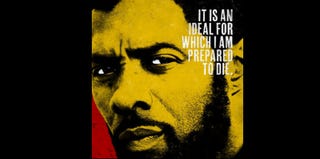 We've seen him as a professional bank robber in Takers, a working-class father in Daddy's Girls, a demented but brilliant detective in Luther — and of course as Stringer Bell in HBO's The Wire — but we've never seen Idris Elba as a historical figure. Until now.
Check out the new poster for the upcoming film, based on Nelson Mandela's autobiography, at the Hollywood Reporter. Mandela: Long Walk to Freedom will have a limited release in the U.S. later this year.

See the poster and read more at the Hollywood Reporter.