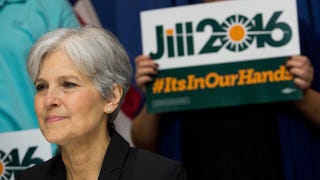 Throughout election night, the Clinton campaign comforted themselves with the belief that her "blue wall" would ultimately secure her presidential victory. Then, one by one, to the surprise of just about everyone in America, including the Trump campaign, Pennsylvania, Michigan and Wisconsin all went red. These are…
Of the 4,726 degree-granting institutions, 100 institutions educate and train almost 10 percent of black college students. Yet since their inception, HBCUs have been in a war for their very existence, whether facing Congress or state legislatures.
When Green Party presidential nominee Jill Stein tapped Ajamu Baraka to be her running mate back in August, there was a flurry of news stories. Most tried to paint him as the anti-Obama—too radical, too intense, too left to occupy the space just a heartbeat away from the Oval Office.
During a campaign stop in Miami on Friday, Republican presidential nominee Donald Trump suggested once again that Democratic presidential nominee Hillary Clinton could be assassinated if the Second Amendment—the right to keep and bear arms—weren't in place to protect her, The Guardian reports:

Green Party presidential candidate Jill Stein and Green Party vice presidential candidate Ajamu Baraka have both been charged with misdemeanor counts of criminal trespass and criminal mischief for protesting with the Standing Rock Sioux tribe against the Dakota Access Pipeline, CBS News reports.
The majority of black millennials in the United States wanted Sen. Bernie Sanders (I-Vt.) to be their next president, but since he's out of the race, 60 percent of black millennials said they would vote for Democratic presidential candidate Hillary Rodham Clinton if the general election were held today.
Updated Friday, Sept. 9, 2016, 5:30 p.m. EDT: In the wake of the brave and unrelenting actions of the Standing Rock Sioux tribe and water protectors, joined by other First Nations and nonnative allies, the Department of Justice, the Department of the Army and the Department of the Interior released a joint statement…
In about four minutes, MSNBC host Lawrence O'Donnell reminded liberal white America that it has the blood of indigenous people on their hands.
I'll say this about Green Party presidential nominee Jill Stein: She may have tried real hard during Wednesday night's first-ever Green Party town hall on CNN to get mainstream Bernie Sanders voters into the party fold, but she did not stop her running mate, Ajamu Baraka, from saying what he really feels about…
Marc Lamont Hill—Morehouse College Distinguished Professor of African-American Studies, New York Times best-selling author of Nobody, VH1 talk show host and a much-sought-after political and cultural commentator—swung by 105.1's The Breakfast Club to chop it up with D.J. Envy, Charlamagne tha God and Angela Yee.
The contours of the 2016 presidential title match—Hillary Rodham Clinton in the blue corner and Donald J. Trump in the orange corner—have been shaped by the politics of fear, the presence of privilege, and the unbinding of race and class as black voters work through the fractures exposed by the looming exit of…
Green Party presidential hopeful Dr. Jill Stein has tapped Ajamu Baraka as her vice presidential pick for the upcoming 2016 election.