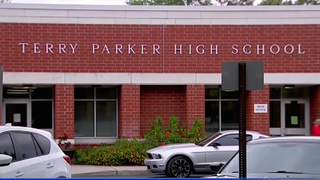 Students at Terry Parker High School in Jacksonville, Fla., staged a sit-in earlier this week demanding a change in the way African-American history is taught in Duval County Public Schools, Action News Jax reports.
"Whites Only" and "Colored" signs reportedly placed above two water fountains at a Florida high school have sparked an investigation by school officials, Action News Jax reports. A photo of the signs was shared on social media Thursday.
Surveillance footage a Virginia school district apparently tried to keep under wraps shows a now former Arlington Middle School security guard convicted of battery grabbing two students and slamming them to the ground, WJAX-TV reports.