Because there is still a little justice left in this world, a Georgia couple reportedly broke down in tears Monday after being sentenced to prison for their involvement in a 2015 racist incident in which a group they were a part of waved Confederate flags, shouted racial slurs, and made armed threats at adults and…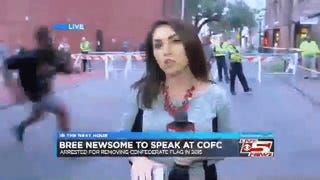 It's been a while since I watched rasslin, but that looks like a textbook Stinger Splash by a counter-protestor to break through the tape and snatch down a Confederate battle flag being waved by members of South Carolina Secessionist Party. The whole thing was caught on live TV, and it's very satisfying.
Parents are speaking out after reports that a Confederate flag was found hanging inside a Sutter Middle School classroom in Folsom, Calif., CBS Sacramento reports.

A former Roswell, Ga., police sergeant who was fired for flying a Confederate flag outside her home is suing the Roswell Police Department … with the help of a group with alleged white supremacist ties, CNN reports.
A Michigan police officer who was placed on paid suspension after he was seen driving a pickup truck with a Confederate flag around a group protesting Donald Trump's presidential election has now resigned, the Washington Post reports.
A T-shirt featuring the Confederate battle flag, reportedly worn by former University of Cincinnati Police Officer Ray Tensing under his uniform when he fatally shot Sam Dubose—an unarmed black man—was part of the presentation of evidence Friday in Tensing's murder trial, the Cincinnati Enquirer reports.
A 10th-grade student in Arizona who arrived at her high school picture day in a "Black Lives Matter" T-shirt was told to take it off because it violated the school's dress code, reports KPNX.
About 20 members of a "White Lives Matter" group protested outside the NAACP in Houston's 3rd Ward Sunday, calling out what they said was the civil rights organization's failure to speak out against pro-black organizations like Black Lives Matter, SFGate reports.
In Roswell, Ga., a police officer was fired in July after a complaint was filed against her but is planning to contest the firing, according to the Atlanta Journal-Constitution. Former Sgt. Silvia Cotriss had a Confederate flag on display underneath the American flag outside her home. She had apparently been flying…
A Virginia woman says she was terrified after a white man waving a Confederate flag pointed a shotgun at her and vandalized her vehicle, WTVR reports.