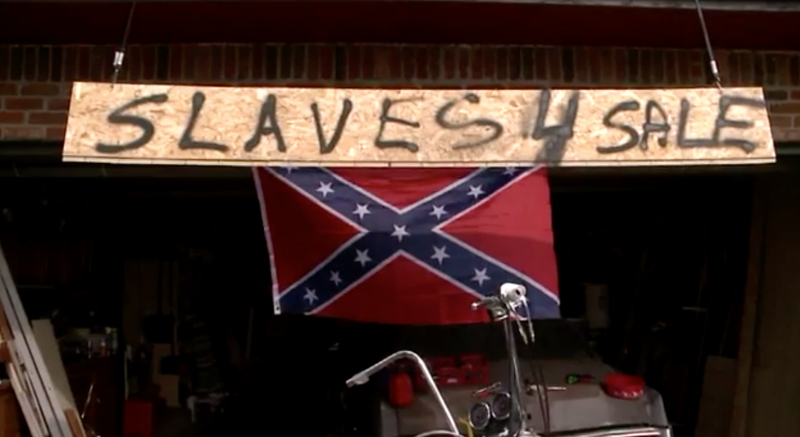 Y'all, there's dumb and then there's dumb. And one Liberty, Mo., resident is literally the representation of being "dumber than a bag of rocks" after throwing up a "Slaves 4 Sale" sign, all because he was mad at his neighbors for apparently treating him like a racist because he hangs a Confederate flag (the flag of…
Baltimore took quick action after showing its hand, removing Confederate statues across the city in the early-morning hours of Wednesday, just one day after voting on the issue.
Fights over history are really contests for children's minds. And the stakes are high enough that adults have put children in harm's way. Last week, people protesting the removal of Confederate flags in New Orleans brandished guns and at least one assault rifle within range of a local school known for diversity.…
With the decision of Biloxi, Miss., to no longer fly the state flag, and cities across the country destroying monuments to the Confederacy, the debate about the meaning and historical significance of the Civil War has once again reared its ugly head.
About 20 members of a "White Lives Matter" group protested outside the NAACP in Houston's 3rd Ward Sunday, calling out what they said was the civil rights organization's failure to speak out against pro-black organizations like Black Lives Matter, SFGate reports.
Vanderbilt University has agreed to dole out $1.2 million to the United Daughters of the Confederacy to settle a long-running lawsuit and move forward in its bid to rename its Confederate Memorial Hall, WPLN reports.
On Flag Day (June 14), McComb, Miss., native and actress Aunjanue Ellis (Quantico, The Help) is taking the fight against the state's flag all the way to the nation's capital. Ellis will be joined by Michael Eric Dyson, musician Genesis Be and attorney Carlos Moore, along with lawmakers, celebrities and civic leaders…