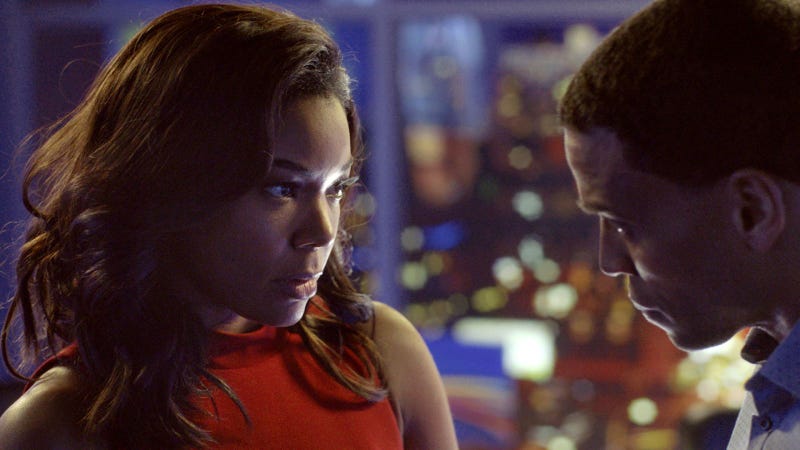 Mary Jane Paul has always been a mess, but her many, many faults are what made Being Mary Jane such an interesting watch. As Kelley Carter wrote in the 2015 BuzzFeed piece "BET's 'Being Mary Jane' Has Started a TV Revolution," the show was a "revolutionary series about a perfectly imperfect single black woman."

The movie Get Out will make you re-evaluate your life choices: whom you date, what kinds of dinner invitations from white people you'll accept, and your friendships. Definitely your friendships. Because if there is one shining moment in the disturbing horror that is Get Out, it's Chris' ever-present, ever-woke,…
I'll give it to Mary Jane—Justin certainly is a lot more attractive now that he's dropped the icebox where his heart used to be, but that still doesn't make up for why Mary Jane and Justin are on the pathway to a hookup. With the midseason finale next week, there will soon be an end to me shaking my head at the TV and…
When cold-as-freezer-burn Justin becomes the supporter and Lee, the suave, endearing boyfriend, becomes the overly aloof one in one breath while we are being set up for a very obvious and cliché storyline in another, this was one of the more entertaining episodes of this season. I'll put my dismay at the prospect of…
New phone, who dis? Do we even recognize who this Justin is? Or can we even trust that the man who has so coolly thrown Mary Jane under the bus at every opportunity is now supporting and backing her against Ronda and their boss Garrett? It's almost unbelievable to think that this might be a moment of integrity and not…
Tonight, Being Mary Jane was an ode to Black History Month. You could bullet-point all the nods to black history and civil rights leaders that were featured in this episode, because that is how many of the scenes in this episode seemed to be introduced. It was as though the show had a list of topics that needed to be…
Mary Jane still isn't settled into New York City, and we're still not settled with the splitting between Mary Jane's and her Atlanta family's storylines, which added some of the best moments in the past season. It is great to see the family back in this episode of Being Mary Jane, even if Niecy hasn't matured much.

Something about this season of Being Mary Jane is different. I've been hoping for it to pick up like past seasons, when complex subjects that black women deal with every day were subtly woven through the storyline. Mary Jane was always over-the-top extra, making her hard to like. But every time you screwed your nose…
Being Mary Jane is back for a fourth season, and Mary Jane Paul is still pompously lacking in self-awareness. While we open to M.J.'s 6-inch heels sauntering down the hallway to a sexy song, it doesn't take long for M.J. to almost completely unravel in her most vulnerable space: her sexuality and pursuit of love.
The show Being Mary Jane did not necessarily require much in the way of revamping. However, with the show's creators and executive producers, Mara Brock and Salim Akil, leaving for a production deal with Warner Bros. TV, a shift was likely unavoidable. Mara Brock Akil spoke for many when she told Fader earlier this…