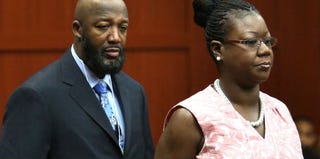 Trayvon Martin's parents, Sybrina Fulton and Tracy Martin, took to Twitter to express their profound grief after a jury acquitted George Zimmerman in the shooting death of their son, the Daily Mail reports. They were not present in the courtroom as the verdict was read. 
Trayvon Martin's heartbroken mother has poured her heart out onto Twitter in the sensational aftermath of George Zimmerman's not-guilty verdict.

In an emotional message posted just an hour after the jurors reached their decision, Sybrina Fulton called this 'her darkest hour' and prayed to Jesus for help and guidance.

'Lord during my darkest hour I lean on you. You are all that I have. At the end of the day, GOD is still in control. Thank you all for your prayers and support. I will love you forever Trayvon!!! In the name of Jesus!!!'

Trayvon's father, Tracy, also posted his reaction to the social networking site approximately half-an-hour after the verdict was announced.

'Even though I am broken hearted my faith is unshattered, I WILL ALWAYS LOVE MY BABY TRAY (sic).'

Thanking everyone who supported the Martin family during the three week long trial, Martin also paid tribute to his 17-year-old son and re-iterated that he and Trayvon's mother, Sybrina knew that he would be proud of their legal fight.

'God blessed Me and Sybrina with Tray and even in his death I know my baby proud of the FIGHT we along with all of you put up for him GOD BLESS (sic)'.

Both Tracy Martin and Trayvon's mother Sybrina Fulton chose not to be in the Seminole Circuit Court when the jurors announced their decision just before 10 p.m. 

George Crump the family's attorney said that they will still be pursuing a civil case against George Zimmerman.
Read more at the Daily Mail.