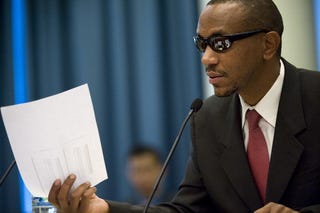 Nikita Stewart of the Washington Post is reporting that a congressional committee has concluded that Sulaimon Brown appeared to receive money from people with ties to a campaign aide of Mayor Vincent C. Gray, but there is no direct evidence that he was promised a city job in return for disparaging then-Mayor Adrian M. Fenty in last year's election.
An investigation by the House Committee on Oversight and Government Reform did not find "independent facts to corroborate" Brown's claim that "he was promised a job" but did say there is "circumstantial evidence that may support Brown's" claim of such a promise, according to its report of the former mayoral candidate's claims. A copy of the report, which is scheduled to be released Monday, was obtained by the Washington Post.
The committee interviewed several Gray campaign and administration staffers as well as Brown, according to the report. It said it based its conclusions on the interviews and on documents provided by the mayor's office and the D.C. Council, which concluded its own investigation this summer. The report also said that the evidence must be weighed against the credibility of Brown, whom it described as having a "poor grasp of the facts."
"A poor grasp of the facts"? How can the committee say that if they did not interview any of the people who gave money orders to Brown? Basing the findings primarily on Gray's investigation and not using subpoena power to interview Howard L. Brooks, who declined to be interviewed, would suggest that there are some facts that need to be uncovered.
Brooks is at the center of the controversy, so why does he escape scrutiny? Brown has a lot of nerve doing dirt and trying to dig up dirt when he doesn't get what he wants. It is looking like D.C. politics as usual. We'll ask again: This is better than Fenty?
Read more at the Washington Post.
In other news: Herman Cain Accused of Sexual Harassment.