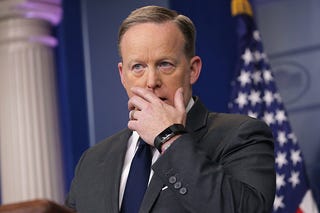 So Sean Spicer is back with another twist, actually saying that it is somehow "demeaning" to veteran White House reporter April Ryan to suggest that she can't "take it." By "it," he is, of course, referring to the fact that he told a grown woman to "stop shaking your head" when she was listening to him (not) respond to her question, and cutting her off sharply when she tried to bring her question back into focus.
"Sean is being the White House press secretary, talking about and trying to make this administration look better than what it does right now, and unfortunately I was roadkill today," Ryan said of the incident on Tuesday.
Many were offended and accused the press secretary of being racist and sexist in his rant against the journalist.